I was behind on my news munch this week so I had to run a hurry up offense in order to get this episode nestled onto its Friday morning doorstep. You could say I winged it, and that's no guac. But I figured out a way to make this a Super edition by including a member of both the Niners and the Chiefs in my lineup. Yanno, in the name of fairness and world pizza.
And now your heroes . . .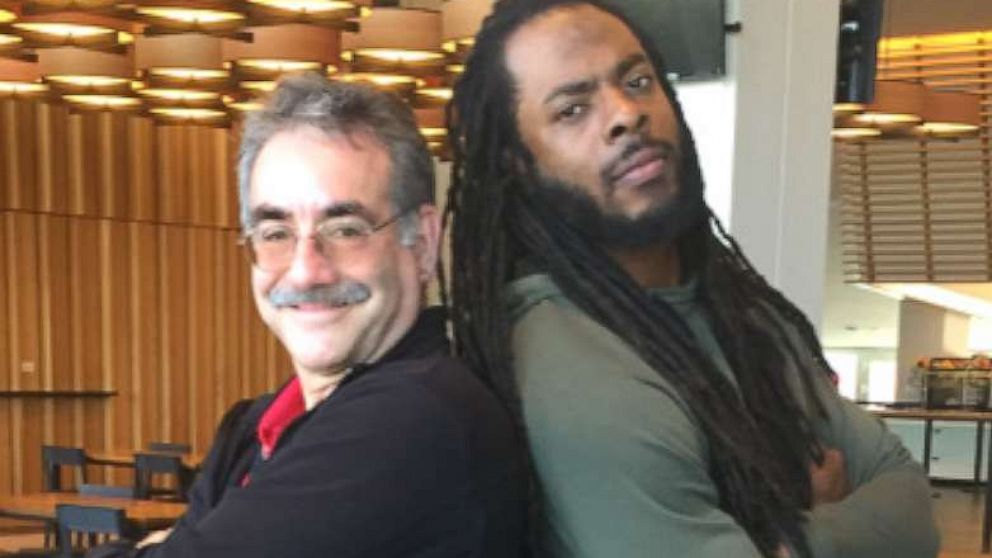 Heart of Gold- Richard Sherman is going to be a first ballot Hall of Famer whenever he decides to hang up his cleats, but in the game of life he is already there.
In November, Sherman wrote out a check for almost $7,500 to the Cabrillo Middle School in Santa Clara, California that wiped out all lunch debt owed to the cafeteria. A month prior to that, he wrote a check for over $20,000 to the Tacoma Public Schools in Tacoma Washington to clear all lunch debt there as well. Since 2013, Sherman's organizations- The Richard Sherman Family Foundation and Blanket Coverage Foundation- have raised more than $1.5 million dollars to provide students in low income communities with school supplies and clothing.
This dude is already super.
A real Life Saver- For all I know, this might have been Timothy Prather's first rodeo. But you'd never have known it from the way the nine year old sprang into action to save his little cousin. Timothy was enjoying a night out at the rodeo when his three year old cousin Connor began to choke. Welp, Timothy knew exactly what to do thanks to a first aid poster he'd taken notice of in the cafeteria at Ramer Elementary School in Tennessee. He applied the Heimlich and dislodged the candy from Connor's throat. This story had me wondering how many adults know how to apply this life saving move.
Take this job and shovel it- Remember kids, my heroes run the gamut. They don't need to score the real world headlines to make mine. They just need to show me some kind of wonderful, and when they do it in the quiet? That's butter. Fed Ex driver Melvin J. Marlett of Manistique, Michigan supplied the flavor recently when he was delivering a package to Jodi LaFreniere. The kindergarten teacher wasn't home but the motion sensor on her security camera resulted in a notification text, and when she checked out the video footage, there was Marlett . . shoveling her front stoop. Of all the random acts perpetrated in this crazy world, kindness always works best.
Commander and Chief- Derrick Nnadi was a hotshot Florida State prospect a couple years back until a forgettable workout at the league Combine left his pro career in doubt. But the defensive tackle worked his ass off to overcome that blip, and now he finds himself sixty minutes away from a Super Bowl ring.
Nnadi's hard work on the field is in keeping with the great good work he's doing off of it. The league honored him as the Kansas City Chiefs Community MVP of the Week back in September for providing a shopping spree to the family of one of the victims of the Virginia Beach mass shooting. That's his hometown, and it's where his heart will always reside. He's pretty good at dishing up these shopping sprees to school kids, having done it last summer in his adopted hometown of Kansas City as well.
"As my father says . . we don't receive . . we give . ."
When the universe listens- Seven years ago, Georgina Laurie had just lost her husband Dennis and life no longer seemed worth living. She slipped into a depression from which it seemed she might not return.
"A year prior to that, I'd had a stroke, so my whole life completely changed and I couldn't cope with that," recalls Laurie. "I got really depressed, really down and I really couldn't see there was a way forward in life for me.
It was on the night when she began thinking about the end of her life that she was able to find a new beginning. She noticed the card for a suicide prevention hotline called Samaritans by her bedside cabinet and gave them a call. She had no intention of being talked down from the ledge her life was balancing on, but that is exactly what happened. So inspired was she, that this grandmother from the UK later made the decision to become a volunteer for the organization. So it was that Georgina overheard a conversation her fellow volunteer Des McCarthy was having with someone who called into the hotline recently. Des was comforting the person on the other end of the line and the words . . well, they brought Georgina all the way back to that fateful night. And that's when Georgina realized that Des- her mentor and fellow volunteer for the last four years- had been the voice that talked her down from that ledge once upon a time.
There are no coincidences.