Unlike most politicians and political pundits, I'm not gonna lie. I never saw Joe Biden happening to the scene the way he has over the past week. I wanted Bloomberg, I feared Bernie and I gained some respect for Buttigieg, even if he had no chance in hell of winning the nomination. See, the thing is, you can't be civil these days. There has to be some controversy attached to your ass in order to be a viable political commodity.
Thank God for heroes, huh?
Me Too- Aly Raisman is my hero. I follow one athlete on Twitter . . her. And with good reason, because this young woman is the voice of a movement. A human movement. The three time Olympic gold medal winner condemned the proposed settlement reached between USA Gymnastics and the survivors of Larry Nassar's reign of horror as USA Gymnastics team doctor. Raisman says the move is a transparent attempt by the organization to push the decades long abuses "under the rug . . . hoping people will forget about it when they watch the Olympics this summer," She calls for full disclosure by USA Gymnastics and the USOC and I stand with her on this. Her latest interview shows me why I look up to Raisman the way I do. Because she refuses to play the role of victim when tough minded, straight forward advocacy is needed.
It's why she's my hero. Every single day.
I'll take "Heroes" For 100,000, Alex- Jeopardy game show host Alex Trebek is waging the battle of his life. Stage four pancreatic cancer doesn't make for very good odds when it comes to survival rates, yet Trebek isn't throwing back punches for every one that lands on him. He admitted recently that his fight has thrown him into a massive depression most days, to the point where he has questioned whether it's worth it to go on. But go on he does, and with the kind of spirit and selflessness that has defined his philanthropic efforts for decades.
Trebek recently donated $100,000 to Hope of the Valley Rescue Mission; a non-profit organization that provides food, shelter and hope to those in need. He doesn't advertise his charitable ways but I'm glad someone divulged his latest contribution. Because the world needs to feel good about itself and the people it houses. Now more than ever. And Alex, he's doing his part. For the win.
Brave Hearts- When you think of biker gangs, the idea of intimidation comes to mind. And this is exactly how the non-profit organization BACA wants it, sort of. Lemme 'splain.
BACA stands for Bikers Against Child Abuse and their goal is to serve and protect the most vulnerable among us. John Paul Lily, known simply as "Chief", created this group more than twenty years ago with the express intent of being there for abused kids. They'll convene a meeting with the abused at which time they present them with a biker jacket complete with a BACA patch sewn onto it. Once the child is a member, this entitles them to round the clock protection from their abusers; everything from rides to and from school to showing up in court to provide a supportive presence (If the judge allows). The group does its business by the motto that "No child deserves to live in fear". Lily and his merry band of saviors is working on it. (Thank you to the lovely Dale for this get).
The Strength in our Stars- Avey Cox has dreams that are so much bigger than her eight year old self. But one of the simplest and most cherished of these dreams was taken from her over the holidays when her father passed away. All those future moments went missing, one of which was the Daddy Daughter Dance held at Van Buren Elementary. Without that most special man in her life, the second grader would not be in attendance.
That's when the school resource officer Nick Harvey stepped in. Once he learned of the girl's heartbreaking tale, he reached out to her mother for permission to take little Avey to the dance. The invitation provided a much needed smile for a girl in need of just that, and the color coordinated duo danced the night away. Harvey has offered to be there for any future dances should Avey need a partner. I truly believe every star in the sky is a good deed, shone to us inside the darkest of nights. Harvey's star shines brightly.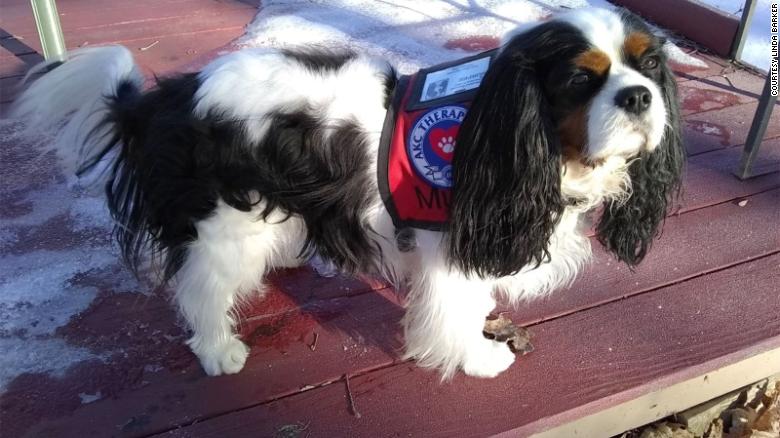 This last story is dedicated to Sam, who wrote books worth of blog posts on his experiences as a therapy dog over the years. His passing last week leaves a void in the lives of his family and friends and us; all the readers who came to know and love his efforts and exploits. Monika, thank you for shining his light for us to follow. And to Elsa and Stormin Norman . . we love you.
The mayoral results are in for a small Vermont town and voters are raising the (wait for it . . . ) woof. Because the new mayor of Fair Haven is a three year old Cavalier King Charles Spaniel named Murfee. This distinguished gentleman is a certified therapy dog who visits nursing homes, grade schools and hospitals as a member of Caring Canines Therapy Dogs of Southern Vermont.
This tradition of electing a four legged animal to office is two years strong. The idea being to use the position in order to raise money for the needs of the community. What a novel concept, huh? So Murfee will lead all the fund raising campaigns with complete transparency, since he won't be in the back pocket of any special interest groups. The dude raised almost $600 with a bake sale last year so he knows what he's doing.
My superhero-meter was stoked to find this story, because it involves all the qualities I look for in my Friday vignettes. It's got spirit and smarts, joy and hope. Because this seemingly innocuous tradition is all about inclusion rather than division. Indeed, according to Fair Haven's Town Manager Joe Gunter, it appeals to people of all ages; teaching the kids about civics and reminding the older folks that liars don't run the system unless we let them.
So to all those peeps who insist that the system has gone to the dogs?
We wish.