As per an idea suggested by Susannah B, I'm offering up a "Best Of" episode. And not a moment too soon, since Heroes turned a year old . . . in December. That's right, I only missed the first anniversary of Heroes by . . . four months.
Heroes first debuted on December 7, 2018 and it was titled "Top Five Heroes Of The Week", which was soon abbreviated to "Top 5 Heroes Of The Week" and finally "Heroes Of The Week". If you've been reading since those days, you know I dished these puppies up in equal amounts of likes and yikes back then. I even posted a "Villains of the Week" episode last August. Alas, it was the only such venture and the good guys bought the joint for good on December 5 when Heroes became Zero-Free.
So this is how it's going to work. I ain't utilized brevity on this post, because I'll be damned if I'm going to cut to the music before it's time. Besides, you peeps who know the what's what on Heroes will spot those stories that hit you in the feels back when you read them the first time. So just sidle up to them and get reunited with that spell. And for those of you who may be new to this stretch of moment? Just pick a story, any story. Find the something that allows you to learn the world for all its winning and losing of a crazy beautiful chance.
Just go with it.
(March 1, 2019) This story was courtesy of the lovely Dale at A Dalectable Life. 
Carey Price is a goaltender for the Montreal Canadiens, and if you've never heard of him before, you're probably an American. And that's alright, because Price is doing his thing without our help. He'll never be the owner of the Patriots, or an NBA mogul. But he's writing checks to a constellation that never minds all that jazz, so it's all good.
Thanks to Montreal Canadien officials and the family of a boy named Anderson, dreams came true during the team's morning skate recently. The boy's mother lost her battle with cancer last year, but her echoes reverberate still. Because within these echoes, a promise was made from mother to son; a promise that she would arrange a meeting with him and Carey Price. The fact that she was taken from the world much too soon didn't silence the heartbeat of that promise.
And so it was that Anderson met his boyhood idol, and in so doing they shined a light into that darkness. Price signed Anderson's hockey sticks and hockey pucks and his hockey jersey and he gave the kid a hug. And if there is a sporting event known to man that feels as good and as compelling and as worth it as this minute and a half video of a kid and his hero? I want tickets . . front row.
To promises kept.
(April 12, 2019)– Jay Singh is a 7-Eleven store owner in Toledo Ohio who's just trying to make ends meet. Running a convenience store ain't the easiest gig, what with small margins and long hours and peeps trying to dig into those profits by taking your inventory free of charge.
Which is exactly what happened recently when an employee at the store informed Singh that a teenager was shoplifting. Singh went back and checked the cameras and sure enough, the kid in question had a serious case of the hot pockets. And so at this point, you wouldn't have blamed the guy for dialing up 911. Because, yanno . . he's got a business to run? And he's not related to the Paisleys.
Singh did no such thing. Instead he asked the young shoplifter a simple question. Why? To which the kid replied that he was hungry, and that he was stealing food for himself and his kid brother. It was all Singh needed to hear.
The store owner went on a mini-shopping spree- collecting sausage rolls and sandwiches, chips and pizza and a 2 liter soda for the young man. Because he thought it a better idea to give him something rather than take something away by having him arrested. Because Singh's bottom line doesn't begin and end with cash money. Because sometimes, it really is better to give than to receive. Singh's gesture inspired one of his customers- Cedric Bishop- to give the kid a ten spot. I mean, can you imagine being inside that moment with these people? It must have felt as if God was watering the lawn.
I like that idea just fine.
(April 18, 2019)- Father Jean-Marc Fournier is the chaplain of the Paris Fire Brigade. As fire laid waste to the roof of Notre Dame Cathedral, Fournier insisted on re-entering the structure in an attempt to retrieve some of the priceless artifacts housed within.
He was joined by a group of rescue workers who formed a human chain in order to save the Crown of Thorns- believed to have been worn by Jesus during the crucifixion- and the tunic of Saint Louis which was worn by King Louis IV when he brought the crown to Paris.
Fournier has a resume of doing this kind of thing. He served as a military chaplain in Afghanistan before joining the Fire Brigade. In the aftermath of the 2015 Bataclan terrorist attacks, he helped to evacuate the victims. He also gave absolution to those lost in the attacks.
Holy Week always feels quiet to me, but never more so than after this trying week. That hush of appreciation for the mysteries that might hold answers, it speaks to me this time of year. And I do hold to the idea that all is never lost.
Only misplaced.
(July 19, 2019)- The Seattle Sounders football club played more than just a game the other night when they started Bheem Goyal in goal. The eight year old is battling Acute Lymphocytic Leukemia, and so the Sounders- in conjunction with the Make-A-Wish Foundation- made Goyal's dream of being a goalkeeper come true. They signed him to a contract, after which he opened things up by standing in goal for Seattle and gobbling up a shot on goal. He then exited the game between the Sounders and Dortmund to a standing ovation, receiving high fives from both sides. They don't call it the beautiful game for nothing.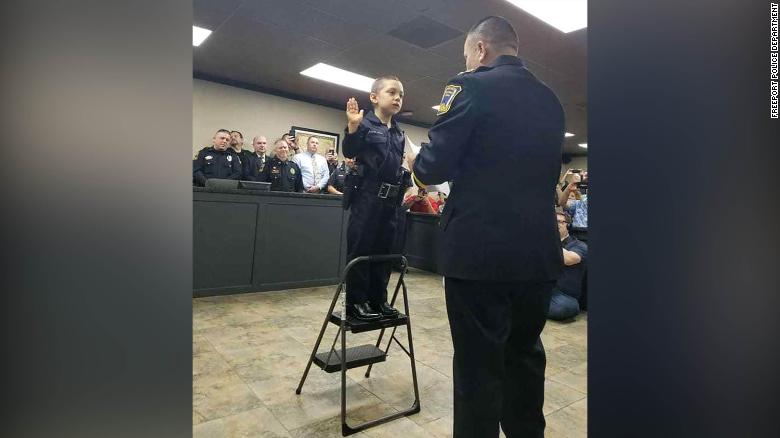 (August 9 2019)- 7 year old Abigail Arias got to live out a dream job on Tuesday night, thanks to the peeps at the Blue Lives Matter Foundation. They organized a trip to New York City for Arias and her family so she could don the uniform of an MTA police officer. Abigail and her family also met with the NYPD Police Commissioner James O'Neill, and they visited other units across the city.
Arias has an incurable form of kidney cancer and so time is no longer something she or her family take for granted. Instead, they are grateful to borrow as much of the stuff as they can get their hands on. This little girl was sworn in as an honorary police officer in her hometown of Freeport, Texas back in February. And now this. And tomorrow, they'll get to stepping on something else. Because in Abigail's world, there is no time for hate or divisiveness and all the ugliness that comes with it.
There's only time enough to dream.
(Abigail lost her battle in November. In a Facebook post, Chief Raymond Garivey said it would be his duty and privilege to heed the lessons taught to him by Officer Arias 758. He ended the post by saying "I love you Abigail").
(August 29, 2019)- Eight year old Christian Moore didn't think twice when he saw his classmate Connor Crites struggling on his first day of school. He didn't laugh, shake his head or judge Connor for having a meltdown right in front of their whole class.
Moore didn't know Crites has autism or that he finds it extremely difficult to fit in with other kids. All Christian saw was a friend in need. So he did what any good friend would do. He sat with Connor as he cried, and then he held his hand and walked with him into school. No shaming, no blaming. Just love, in a not so random act of kindness that made all the difference in the world to one little boy.
That's the problem with us adults. We tend to forget the power of compassion, and that it is every bit as much of a currency as all that dope we peddle to make us smarter and richer and stronger and younger. The difference with compassion is that the stuff has no expiration date. It will never leave us broke. Or empty. Or alone. And it is full of the kinds of nutrients that do a body and soul the most good. Lessons.
That picture is worth a thousand of 'em.
September 19, 2019 Appreciating the good guys shouldn't be a sometimes thing, reserved for national holidays or somber occasions. Because duty isn't a sometimes thing for the men and women who put on a uniform every day. It doesn't mean they're infallible and it doesn't mean their actions cannot be questioned. But to slant our opinions on every uniform is to miss out on cops like Bobby White, who became known as "the basketball cop" after video of him responding to a noise complaint in Gainesville, Florida went viral a few years back.
A white cop makes the scene where black kids are hanging out, things can go sideways in a hurry. Bobby White defused the situation by letting them know he had no problem with some kids balling. He even joined in. It wasn't a "look at me" moment, but rather, a "look at us" moment, as in . . look at all the better outcomes we might achieve with just a little bit of understanding and some dialogue.
So the other day, The Meritorious Q sent me the "rematch" of that pickup game that happened three years ago but is still scoring all this time later. White brought Shaquille O'Neal out with him for another round, and it was such a brilliant spin move on what had already proven to be a wonderful story. Of hope. Because Shaq provides the kind of soul hug that doesn't just light up the room he enters, it provides electricity for the entire neighborhood.
It was a valuable reminder that we don't have to let anyone tell us what the world is supposed to look like. Because the better can happen from our rolled up sleeves to the tips of our fingers. In the quiet of our daily breaths to the pulse of a great big world that isn't so frightfully hopeless when you let the ball bounce, and you let the kids play. Imagine the places we might find when the noise ceases to be a complaint, and becomes something else entirely.
An embrace.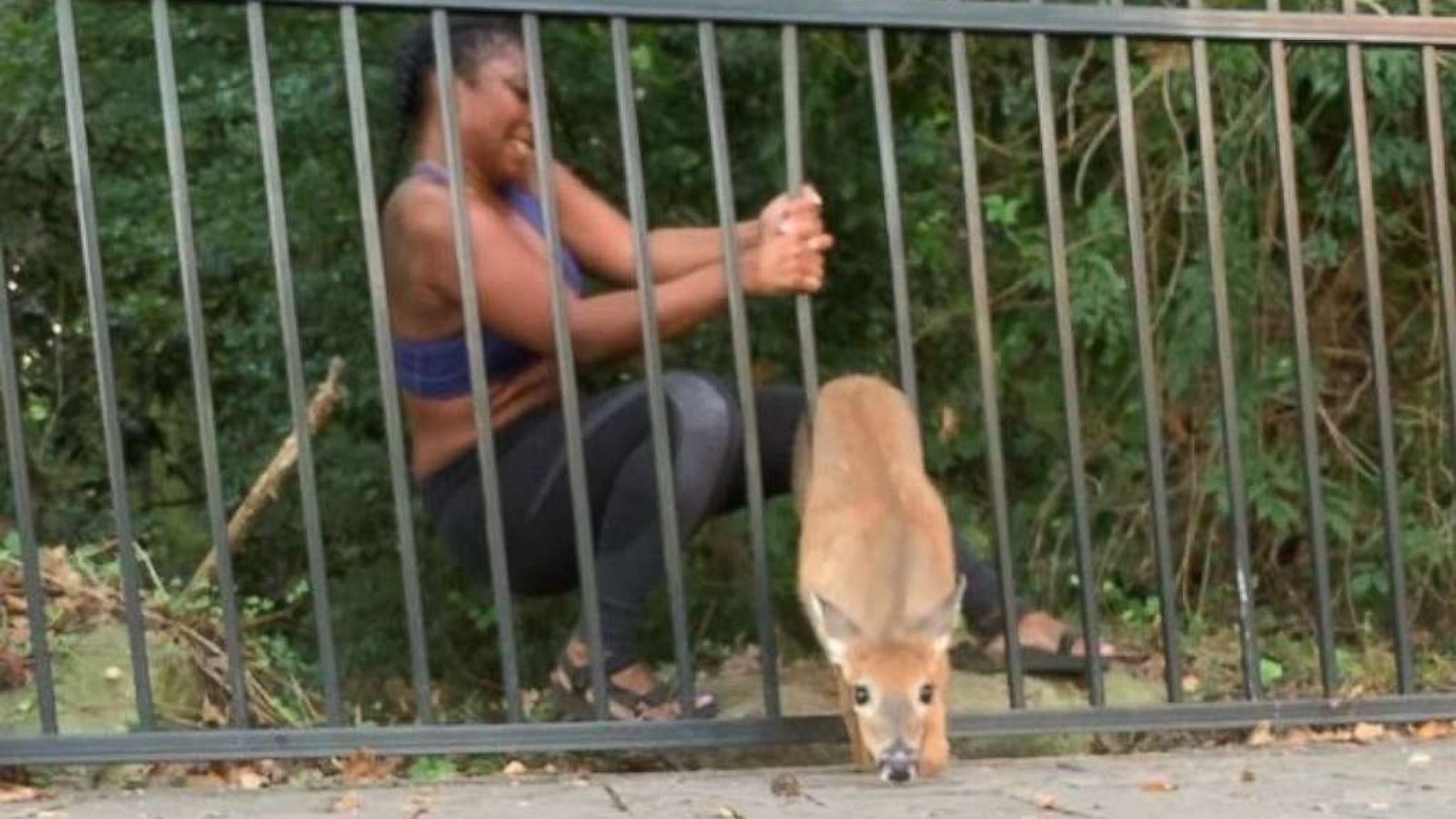 October 4, 2019 When I write these posts up, I'm always on the lookout for something I've never felt before. And Chloe Dorsey paid me in full with her superwoman exploits at a state park. The Georgia woman was out for a run when she spotted a deer that was stuck in a metal fence. So she bent the bars to release it . . because of course she can! After running a few hundred feet, the deer got stuck in another fence. And Imma include the video, because it speaks to the fight we need to keep on pushing and the love that fuels the try.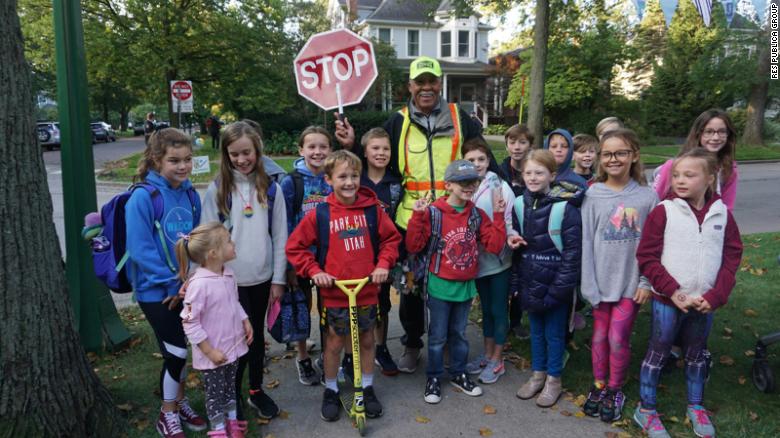 (October 18, 2009)- Alec Childress is the great grandson of a slave. When he was fourteen years old, his father left their Mississippi cotton farm to look for work up North, leaving his son in charge. Later on, when his family joined his father, Alec had to go to work as a dishwasher in order to pay for his schooling.
Alec learned the value of hard work and a positive attitude from an early age; a mindset that served him well in his thirty six years of working construction. And just twenty eight days into his retirement, Alec decided he didn't feel like sitting around at home so he took a job as a crossing guard in Wilmette, Illinois
For the last fourteen years, Childress has been dealing up stories and smiles to go along with his trademark "Peace, I gotcha!". He has come to own the corner of 9th Street and Lake Avenue, turning an intersection into the heart and soul of a neighborhood.
And so for his eightieth birthday, the neighborhood said thank you by throwing him a surprise party. Yard signs greeted him with "Peace, we gotcha!" and students who had moved on to middle school and high school returned to take part in the festivities. One girl who was off to London for college made it a point to stop by to wish her favorite crossing guard a happy birthday as well. In all, more than a hundred people showed up with cookies and gifts, and plenty of hugs.
"For me to be able to experience that kind of love tells me we have more good in the world than the bad," Childress said. "It reaffirms my knowledge and belief in people."
Well, he started it.
(October 25, 2019)- Milwaukee police officer Kevin Zimmerman brings more than a badge and his service issued particulars to the job every day. He also happens to bring a heart and soul whose perspective gleans best case scenarios from trying situations. As he did during a traffic stop recently when he came through for a young mother and her three children. Zimmerman had pulled over Andrella Jackson for driving with an improper registration, after which he saw that her young children were not in car seats. Jackson explained that she'd just bought the car at auction, but could not afford car seats for the kids. Zimmerman decided not to issue her a citation . . and then he bought the kids some car seats. That's called a good day's work, and then some.
(November 8, 2019)- And finally, we wrap things up with a Waffle House story that doesn't involve armed robbery. It's a story that involves doing the right thing, and a social media storm that actually worked out to everybody's benefit. Imagine that!
Evoni Williams has this dream of going to college. She's eighteen years old and a waitress at Waffle House, so you know she's serious about it since the hours are unkind and the work exhausting. Dreams are circuitous in nature, and hers requires an apron and a fifth gear, to which she abides. So when an elderly gentleman came in and asked for assistance cutting his food because his hands weren't functioning so well, Williams was on it. And so was Laura Wolf, who snapped a pic of the moment and posted it to Facebook. Because not every snapshot that goes viral is a gotcha moment. Sometimes a person just gets all wrapped up in the human effort and has to share it with the world.
"It was so busy in here, and she actually took the time to stop and hear what he had to say instead of walking past him. That just meant something to me," Wolf told KHOU-TV.
The world noticed.
The City of La Marque, Texas awarded Williams with her own day . . .
Bonus News Item! . . . Now that is a holiday worth celebrating.
Williams was then rewarded with a $16,000 scholarship donated by Texas Southern University. And this dream of hers was coming into focus because of a human moment and a snapshot and a collective embrace that refuted the notion that nothing worthwhile ever happens inside the quiet moments.
This special gal happens to be of the opinion that she did nothing special and she said so herself. "It's something I would do any other day," Williams said.
Told ya.
And while I have no doubt that it's something she would do on any other day, I'm really glad she did it on this particular day. When a bystander decided to break into the regularly scheduled life Williams was busy living, and let the world decide as to just how special a thing this was. And when the vote was in, the results were unanimous.
We won.
(November 25, 2019)- This last story is the best case scenario to an epidemic that's had this country in a choke hold for more than two decades. It's yet another story about a kid living on the fringe, until his feelings of isolation become too much. It's yet another story about guns. But this story, which happened all the way back in May, has a much different ending than so many others.
Keanon Lowe was busy living the life he had imagined in January of 2017. The Gresham Oregon native was working as an offensive analyst for the San Francisco 49ers when he got a phone call that would change his life forever. Taylor Martinek, his best friend since their days at Jesuit High School, had died of an overdose after taking a lethal dose of fentanyl.
Shattered by the news, Lowe picked up the pieces by moving forward. He returned home and took a job at Parkrose High School coaching football and track and field. Last year, he became the school's security guard as well. He was a living legend in his home state, having played wide receiver for the Oregon Ducks, but that's not what brought him home.
Lowe saw a community in need, and this mattered more than a peach NFL gig ever could. To him. Because with some people, status is all about living right.
And so it was that Lowe was preparing his team for a district track meet when Angel Granados-Diaz walked into a fourth period government class; wearing a trench coat and carrying a shotgun. Lowe never missed a beat as he brought the student into a clench while wrestling the shot gun away from him. And then he hugged the kid, who is getting the help he needs now, instead of being immortalized as a monster.
"I told him I was there to save him . . I was there for a reason . . and that this is a life worth living . ."
It's easy to lose our better angels to the hopeless depths of indifference and division. And then the fates bring us someone like Keanon Lowe, who turned a tragic ending into a lifetime of new beginnings. The right person in the right place so that the wrong time would never have a chance. And for one blessed day, flowers were given to the living instead of to the dead.
When faced with the prospect of just another day happening all over again, that hug was busy speaking a different language altogether. It spoke kindly to the wicked fates, two simple words uttered in the silence of a heroic embrace.
Not today.