This is a picture of health care workers from Georgia on-board a Southwest flight bound for New York. A loving army whose mission is to provide the shelter in the face of an unyielding storm. They are the front lines in this battle against a relentless enemy, and they fight not for a particular flag or country or political party. The battle they wage is for humankind. And if this global pandemic has taught us anything, it's to understand ourselves as citizens not of one place but of all places. A lesson brought home by our health care workers.
I've been an outspoken critic of the New Orleans Saints for quite some time, but then perspective happened. Their head coach, Sean Payton, tested positive for COVID-19. And all of a sudden I couldn't remember why any of that other stuff mattered as much as hoping he got better. And then of course there is Drew Brees and his wife Brittany, who do great things on the regular. This week came the announcement they will be donating $5 million dollars to various charities throughout Louisiana- one of the hardest hit states. These two make up one hell of a championship team.
With no sports on the calendar, this doesn't mean the athletes who entertain us aren't getting things done. Shin-Soo Choo provides us with yet another example of this. The Texas Rangers outfielder is donating $1,000 dollars to every minor leaguer in his organization. The dude doesn't hide behind his big major league contract when giving back to those in need is a much better idea.
Frank over at the now retired A Frank Angle chimed in this week with a beautiful story about a man and his never ending quest to find the good in this world. I'll let Frank tell it from here.
Steve Hartman isn't an everyday Joe – he's a reporter for CBS News who captures good stories. Because Coronavirus has taken him off the road, he did an online course for kids about kindness … Kindness 101. I had seen various reports through the week about his project, but here's the final one that I saw this evening.
When Dr. Sarosh Janjua was pulled over for speeding on a Minnesota highway recently, she figured there was a debit to her bank account on her horizon. The cardiologist from Massachusetts travels to the North Star State once a month for work and on this particular day, she met the wrong end of state trooper Brian Schwartz's radar gun. But instead of a fine, Schwartz gave her a heartfelt reprimand to keep it safe and then handed her five N95 masks. The gesture left Janjua in tears, that for one beautiful moment in time, were joyous ones.
Dale over at A Dalectable Life has chimed in with a couple of winners this week. And yes, Imma keep using sporting terms since there ain't no sports in sight . .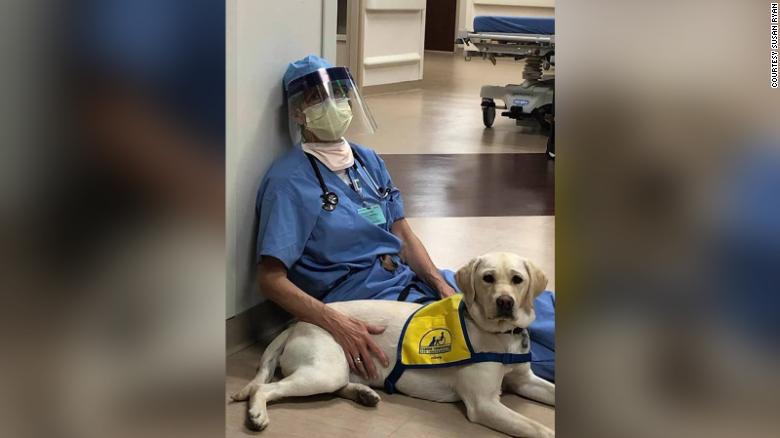 Her first get involves a service dog in training named Wynn who is already earning her stripes and then some as she provides respite to medical staff who find themselves in the midst of a frightening battle in Denver, Colorado. Wynn is being trained to become an assistance dog for Canine Companions for Independence -an organization that provides assistance dogs free of charges to those in need.
"Seeing stuff and hearing stuff that you can't unsee has an impact on you," Says Susan Ryan, an emergency physician at Rose Medical Center "That's where the dogs come in. When you are in the presence of the dog and petting them you are taking a moment to ground yourself at that present time."
The one year old yellow lab gives the staff something that is in seriously short supply these days: Peace of mind.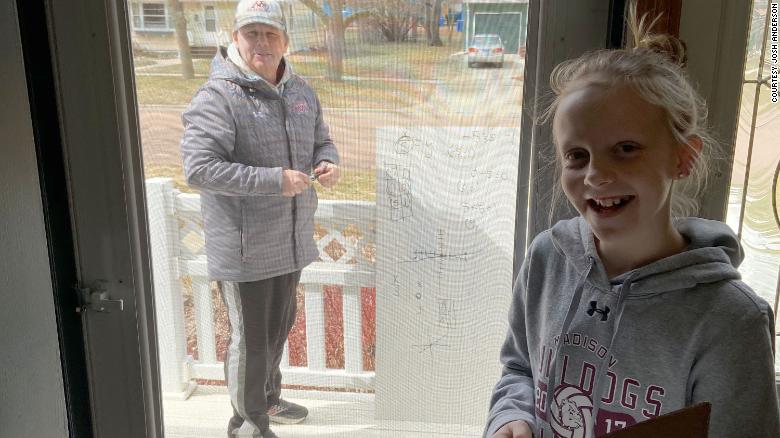 Like millions of students across the country, twelve year old Rylee Anderson is continuing her education in a virtual classroom this spring. So when the middle schooler from Madison, South Dakota struggled to get a grasp on her algebra work, her teacher took it upon himself to give her some much appreciated one on one instruction. So Chris Waba showed up on her front porch with a whiteboard and his marker.
They spent the next ten minutes working it out from different sides of her front porch door. Because as Waba puts it, he's always communicated best when face to face with his students. And this current state of the world we live in wasn't going to change the way Waba has been doing his thing for the past twenty seven years. Because that's how we make it through this time. By understanding that the little things? Can be a really big deal.
My last story is about an exchange I had with a nurse whilst in line at the grocery store the other day. It was a simple conversation inside this most complex of times, as we adhered to the necessary commandment of a social distance. She was frazzled and scared, even if she never admitted as much. Fear is the kind of desperate knell those in the field of health care dare not ring. But I could tell her stiff upper lip was a trembling mess when there was nobody around to keep score.
I wanted to hug her and tell her that everything was going to be alright. But I knew that was against the rules, and it almost made me cry to think that we really don't know when things get back to being alright again. And thank God for her, and for all the other people whose job it is to stand in front of a tsunami and maintain that stiff upper lip.
Before she left, she thanked me for the conversation and I thanked her for everything she is doing. She gave me a tired laugh, her face worn down with all the worst case scenarios she must somehow accept in order to do her job.
"I just want to go home,"