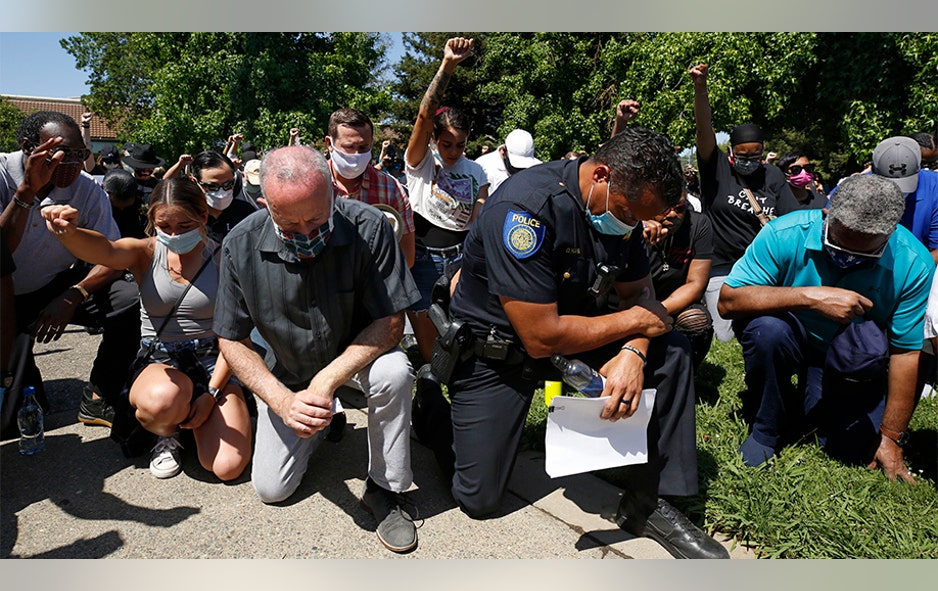 Yeah, it's been a minute. I haven't penned a Friday episode in several weeks, what with my platinum club guest hosts providing their sublime takes . . and then last week. When the world wasn't making any sense. Again. And it didn't feel right, to celebrate inside moments that possessed all the subtlety of a powder keg.
But Heroes is a keeping on kind of groove, and when I looked up from my trance I discovered a few stories that got me feeling hopeful all over again. Because as with any journey, you can always find a new beginning.
Imma dedicate this week to my friend Martin.
Peaceful protests across the country have been marred by acts of violence and looting that have coincided with the marches. And as proof that one has nothing to do with the other, a group of Killeen, Texas residents banded together recently to protect their local mall. After organizing a local protest march over the weekend, Reshard Hicks and Jonathan Hildner mobilized seventy five neighbors to stand guard outside Killeen Mall in order to guard against a possible incident.
"We showed everybody that Killeen can do something positive and not be destructive," Hicks said. "To have somebody come in and ruin all that for us would have been very counter-intuitive to what we are trying to accomplish"
They've accomplished so very much already.
All David York and David North are saying is, give peace a chance. No . . check that. They aren't just uttering those words, they are busy living the best life those words have to offer. This interracial Maryland couple doesn't stand on convention, because to do such a thing is to remain in place. And for thirty years, these two have been much too busy building a life together to worry about rear view mirror concepts and designs. And during the pandemic, North even took to building a doorway he called the Doorway to Imagination. 
And it had his niece Kimberly Adams so smitten, that she just had to share it in a tweet for all the world to see. Adams is a correspondent for the public radio show Marketplace, and so you can imagine there was some big love going on in the Twitterverse after she did so.
This piece is symbolic of the union that York and North have forged, out of love and respect for one another. Because when they speak on matters of race, their perspective is all about the person rather than the color of their skin. Hate calls for sides to be drawn but love? Well . . love is love.
"And it's not an argument," North says. "It's things that we can discuss because we love one another. And love has a way of dispelling fear. The work of love is more than just the people that we know, but even the people that we don't know — that we all deserve love. We all deserve respect."
I choose that door.
(Thank you to the lovely Dale for this beautiful story)
Officer Galen Hinshaw of Louisville, Kentucky found himself in the middle of an angry mob during a protest march recently. The thirty two year old was responding to a call when he removed himself from his cruiser in order to survey the scene. Within moments, he found himself surrounded. His baton, vest, helmet and body armor would be no match considering the fact that he was all alone. So he moved in front of a pizzeria, making sure to keep his back to the wall.
And then help arrived. Not his fellow officers, but rather a small band of protesters who came together and formed a human shield in order to protect Hinshaw. This band of five men consisted of three who were black, one white and one Dominican. Showing up when Hinshaw- who is half Pakistani- needed someone to be there for him. Because it didn't matter to these five men whether Hinshaw was black or white or chartreuse. All that mattered was that he was a human being.
It's all that should ever matter.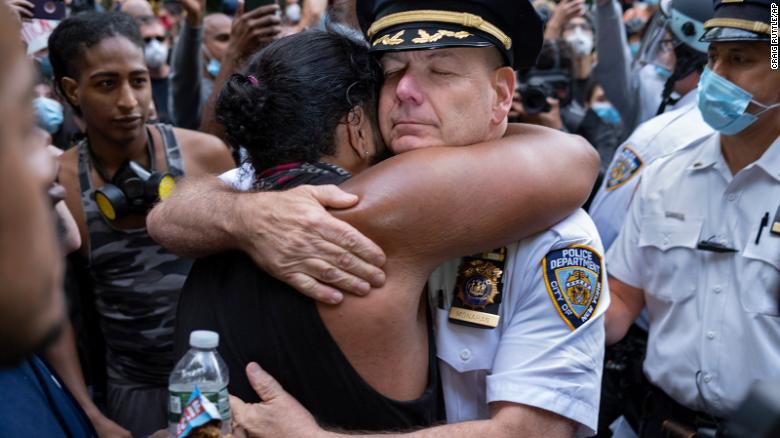 Us. It's the hope, the unifying factor that can build bridges if we just took a moment to unplug from all the loudness. It requires that we take a deep breath, and drop any and all preconceived notions, and then just listen. And learn.
Police officers have joined this national movement, and the image I posted above shows Chief of Department of the New York City Police Terence Monahan hugging a protester in NYC. And while a picture is worth a thousand words, it possesses even more possibilities in this instance.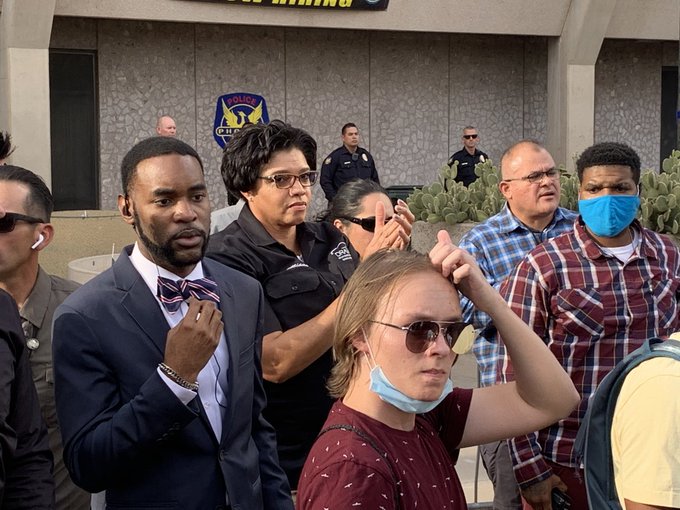 And there's Jeri Williams, the Phoenix Police Chief marching in solidarity with protesters to police headquarters. Because she didn't content herself with simply hearing the calls for change, she is intent on listening. And learning.
And there you have police officers in Coral Gables, Florida kneeling during a rally in response to the murder of George Floyd . . .
And there's Camden County Police Chief Joseph Wysocki joining protests in Camden, New Jersey . . .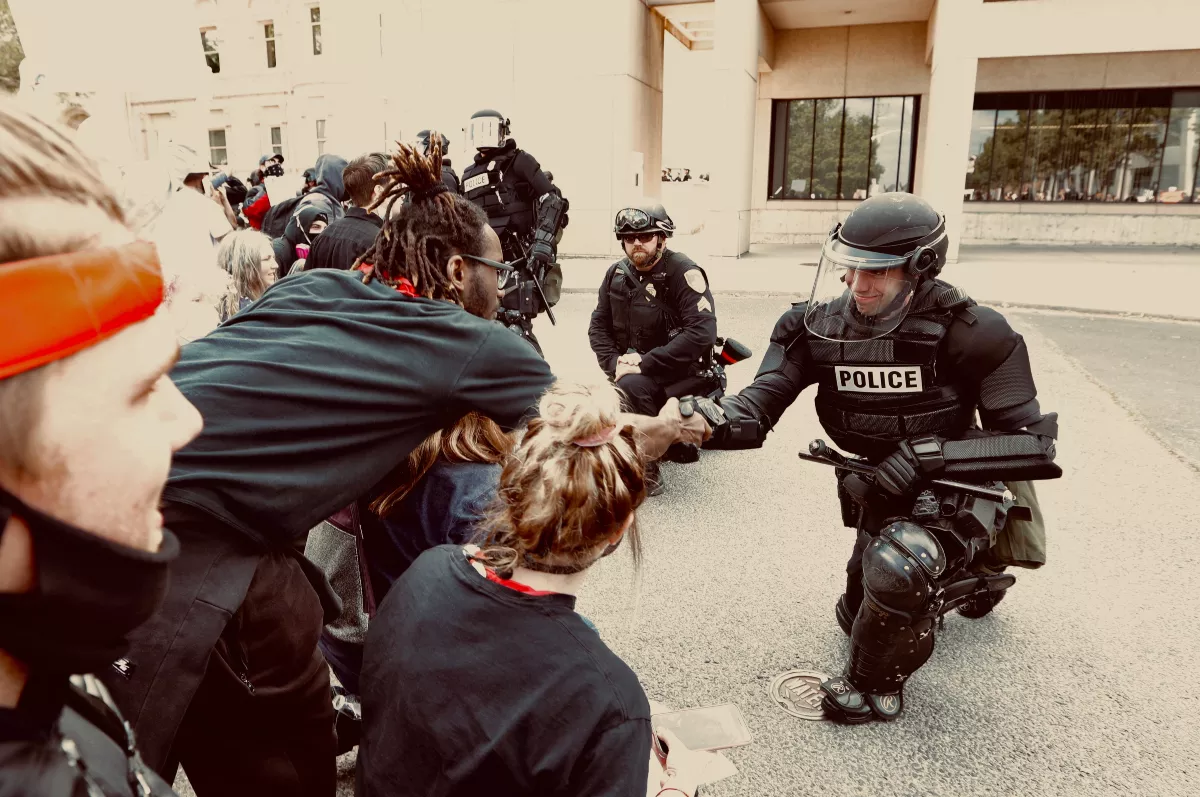 And the officers who kneeled in front of the Spokane County Courthouse in Spokane, Washington . . .
There is a path forward from here. And it consists of swallowing some inconvenient truths. Because there is little comfort in changing the way things are, but the cost of not taking these steps and making these changes is too high a price to pay any longer. We need to be mindful of that dream my friend Martin had all those many years ago.
A dream deferred, but the hope is still very much alive.