Today Imma take the way-back machine© to the not so way back of times, when the good and the not so good shared this patch of WP grass. Interestingly, none of the plus sides are mine . . which is probably the universe telling me I need to incorporate more fiber into my diet, I'm not sure. All I know is you peeps keep on keeping on with the good stuff, so I ain't complaining one bit.
And now to this week's episode . . .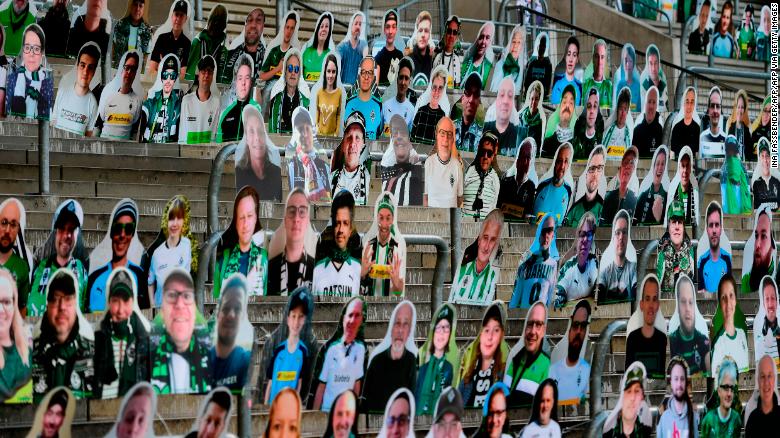 We're starting things off with the beautiful game, and it's a beautiful story that Peter from over at Cheers, Govanhill brings to us this week. Borussia Monchengladbac (say that one time fast) is a club in the Bundesliga football league, and they got back to work last month inside a new reality: No fans in the stands. So the club went about the task of filling the stands with cardboard cut-outs. The upside is that these faux fans don't drink copious amounts of alcohol and scream all manner of artful particulars in the doing. This just so happens to he the downside as well, because yanno . . that's part of what gives the game its soul. So the boys at Borussia came up with a soulful solution by selling the cut-outs to their fans for twenty bucks a pop, with the profits earmarked for local causes.
"When you first come into the stadium, for three or four seconds you don't realize that it's not real people," Borussia player Marcus Thuram says.
And while the stands may not bring the noise, the spirit is alive and kicking. Which makes this idea a game winner.
Who among us hasn't crafted a four lettered rebuttal when muscle car owners decide to let everyone hear what's going on under the hood? But there is such a thing as context, and a Texas woman learned that lesson the hard way recently when she decided to play Sheriff to a caravan of cars in her neighborhood. They had arranged this "cruise" to help celebrate a ten year's old boy's birthday, revving their engines in unison as they passed his house. And that's where the nosy neighbor stepped in to put a stop to the festivities. Which ended up backfiring when word got out that she had stalled the parade and more cars showed up later on, at the request of other neighbors.
Cutting to the chase, the woman's complaints fell on deaf ears with the local police and now she's listing her house. So you could say this squeaky wheel got . . replaced?
And speaking of cruising, that's what Marcus Harvey and Tre' Jones of Marion, Indiana were doing when they came upon a shroud of smoke. The kids pulled over to find where the source of the smoke was coming from and that's when they were told that a neighbor's house was on fire and that a man was still inside. So they went all Superman, breaking down the door and retrieving Guy Tarlton, who was laying unconscious in his living room. Tarlton suffered first and third degree burns and is currently in a medically induced coma, but his chances of survival are entirely the result of Harvey and Jones, who put their lives on the line without a second thought. These young men put the first in responder.
This next story is what George Orwell warned us about more than three quarters of a century ago. It involves the use of facial recognition in criminal investigation and it speaks to a flawed technology that is more dangerous than it is useful. Forty two year old Robert Williams of Detroit found this out the hard way when police arrested him outside of his home recently. Seems that his drivers license photo matched that of a suspect who stole more than $3,800 worth of watches from a department store.
Williams ended up spending a night in jail before the investigating officers figured out they had made a terrible mistake. Which prompted the ACLU to get involved, claiming "the facts of Mr. Williams' case prove both that the technology is flawed and that investigators are not competent in making use of such technology." No. Kidding!
Remember that old saying about being careful what you wish for? We're there . . .
(Thank you to the lovely Dale for providing the capper to her twin bill for this episode).
Most of you know the story of Malala Yousafzai. At fifteen, she was shot in the head by a member of the Taliban. Her crime? Pursuing an education, which is obviously a dangerous proposition in the Khyber Pakhtunkhwa province of Pakistan. The group perceived Malala as a threat, since she defied their archaic rule at every turn; first in writing a blog for the BBC and later for being featured in a New York Times documentary. She was an inspiration to young women in a region of the world where the idea of getting an education is often met with threats of violence and worse.
Malala didn't leave the world on that horrible day. Instead, she has flourished, bringing light to the darkest corners of the world while spreading her message of hope and empowerment. She spoke before the UN a year after the shooting. She's met with the Queen of England as well as President Barack Obama. And at 17, she became the youngest recipient of the Nobel Peace Prize.
Almost eight years since being shot in the head and left for dead by the Taliban, she graduated from Oxford with a degree in Philosophy, Politics and Economics. And so, what do you give the girl who has done so much for so many? A cake bath, of course. She can have the summer too. To sleep in, binge watch some TV shows and to think back on how far she has come in such a young life. Before her journey begins anew.
"It's like we have done our activism; we have done enough to raise our voice. And I think the next step is now let's make the change, let's be the change-makers, let's get more involved in this"
And to anyone who has a problem with this sentiment? Let 'em eat cake.