All due respect to the voters but I think my guy got screwed. Lemme 'splain.
Imma have to awaken the echoes of 1960 by laying most of the blame on Chicago for having perpetrated this somebody done somebody wrong song. Because I'm sorry, but when a true blue Yankee gets jobbed by a South Sider for the American League MVP? It's an inside job, brought to bear by Chicago scribes who have to endure another long winter watching the Bears emolliate while the Bulls get eliminated from postseason play after the season opener. Congratulations to the White Sox Jose Abreu . . but my guy, DJ LeMahieu from Bronx strong was the most valuable player in 2020.
What? You thought I was talking about something else?
And now to our heroes . . .
A sad farewell to Jeopardy! host Alex Trebek, who passed away last Sunday at the age of eighty. I refuse to say he lost his battle with pancreatic cancer because that's just not true. He fought and he battled and he continued to do his thing through all the treatments and all those long days when his body was telling him to quit. He never did. And while many of us know him best for his masterful stewardship of the classic game show, his life was about so much more than this.
He was a philanthropist and activist whose footprints speak of compassion, dedication and hope. His donations to the University of Ottawa totaled more than 7.5 million dollars; the monies of which help to fund programs in diversity while also allowing the school to bring in speakers from all over the world. This past March, he donated $100,000 to Hope of the Valley Rescue Mission- a homeless shelter in Los Angeles.
When the question is posed, whose life's work left a positive impact on so many? The answer is, who is Alex Trebek.
Marshall Police Chief Lang Holland out of Arkansas is a real keeper. As in, you can keep him . . please.
Holland makes it just under the wire as a leading candidate for the Asshat of 2020 award (and really, we got quite a list going on). It seems that Lang ain't down with the election results and he voiced his hateful opinion about it recently. He called for the "death to all Marxist Democrats!" whilst saying the likes of Hilary, Obama and Pelosi should be drawn and quartered. For our Republic . . of course.
Holland was fired from his post, but it's only a matter of time before he's got a viral podcast going.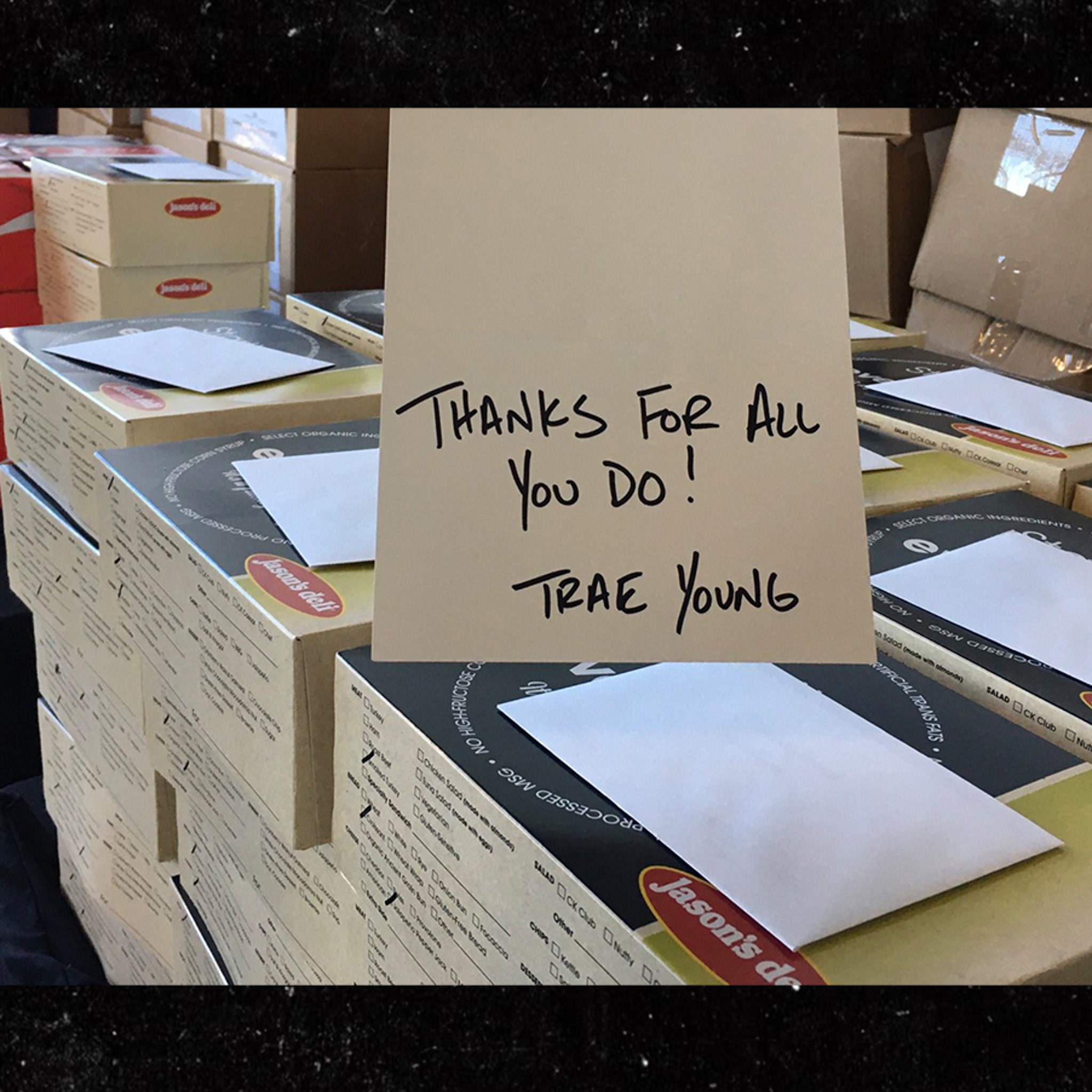 The Atlanta Hawks young point guard Trae Young has game, on and off the court. On Election Day, Young bought lunch for all the poll workers at State Farm Arena in Atlanta. His home court served as a polling place and the kid wanted to make sure the folks putting in the long hours in the name of democracy were taken care of. Thanks to his great good work in establishing the voting rights advocacy group More Than A Vote along with LeBron James and Phoenix Mercury point guard Skylar Diggins-Smith, more than 10,000 poll workers were recruited for the 2020 election.
Young is putting the A plus in the ATL. Go Hawks!
10 year old Haylee Whiting is lucky to be alive. And the harrowing story she will tell her kids one day will begin with the name of Kevin Cozzi.
The Whiting family was busy enjoying their last vacation day in Monterey, California as Haylee swam along the shoreline. Her mother says she had just finished telling her daughter to come in closer when a riptide swallowed her up and began taking her the wrong way. And in those horrible slow motion moments, a family's joy turned to panic. And that's where Cozzi made sure the day wouldn't end in tragedy. He and his fiancé were strolling along the beach when they heard Samantha Whiting's cries for help.
A competitive swimmer since the age of three, Cozzi jumped into the water and pulled Haylee close to shore until a lifeguard could get to her and bring her the rest of the way in.
As it turns out, Kevin and his fiancée had postponed their wedding due to (you guessed it) the pandemic. And so mother and daughter knew what they had to do. They got to stepping on Facebook and then they set up a GoFundMe page for the couple raising almost $50,000 to cover the cost of both a wedding reception and honeymoon.
A new wedding date was set for the fall of 2021, and a grateful family has already marked their calendar.
"Home isn't where you're from, it's where you find light when all grows dark."
-Pierce Brown
As we unwrap our brains over this month's events, it's easy to forget how life is expert at stealing away the most important things. More important than brands, reputations, ratings or elections. Those are minute details in the grand scheme of this place we call home. Robert Carter knows this firsthand. He's one of nine children who was separated from his family and placed in a foster home when he was twelve years old.
"I didn't eat for a week," Carter says. "I didn't know where my family was. I didn't know if I would ever see them again. It was traumatizing."
He didn't have the traditional family life, with a mother and father and Sunday dinners and pancake breakfasts. When he was ten years old, he was stealing food for his siblings because he says "that was the only way we'd eat,". So his being placed in a foster home was simply the next chapter in a life that was collapsing all around him.
Last December, Carter became a foster parent to three boys. Soon after, he reunited them with their two sisters. "Everybody was just crying and hugging and not wanting to let go," Carter recalled. "In that moment, I knew I had to adopt all five."
In the early going, he says the kids would huddle together at night for fear they would be ripped away from each other again. But in time, they got used to sleeping in their own beds. And yes, they came to understand Sunday dinners and pancake breakfasts. Five kids . . . really, six if you include the twenty nine year old who gets to experience these things for the first time as well.
On October 30th, a family was born in an Ohio courthouse. It was built on the hard wrought experiences of a man who never forgot where he came from and five shining little lights that remind him of a time when the future was not so bright. So needless to say, there was a ton of whooping and hollering going on when this party of five was declared his, for good and forever. And a courtroom became the center of their universe, their one great big hug of everything.
And Robert Carter, he's taken to this whole Dad thing like a pro because as all that love was going on, he needed to find himself a quiet spot so he could think about how it all came together. From there to here. He made way for the courthouse bathroom, each step delivering him from that scared twelve year old boy to this big hearted man who got busy making a house a home.
He closed the door behind him, and in the quiet, he cried.