Can you believe January is almost gone? It just goes to show, time flies when you settle into a normalized way of doing business. Unless you're one of those fun bunch investors who didn't pass go with Game Stop stock until it went Yahtzee. And for their next trick, a Reddit group is going to buy the Green Bay Packers and sell Aaron Rodgers to Fox Sports.
Let's get to the lineup . . .
We begin with the floor of this week's episode and it comes out of Seattle. The Seahawks football team has offered yet further proof of just how out of touch the NFL still is when it comes to domestic violence. Their offensive lineman Chad Wheeler was arrested this week and charged with felony assault after strangling his girlfriend to the point where she lost consciousness. When she awoke, he expressed dismay at the fact she was still alive. The Seahawks response on Twitter? Nothing short of sickening.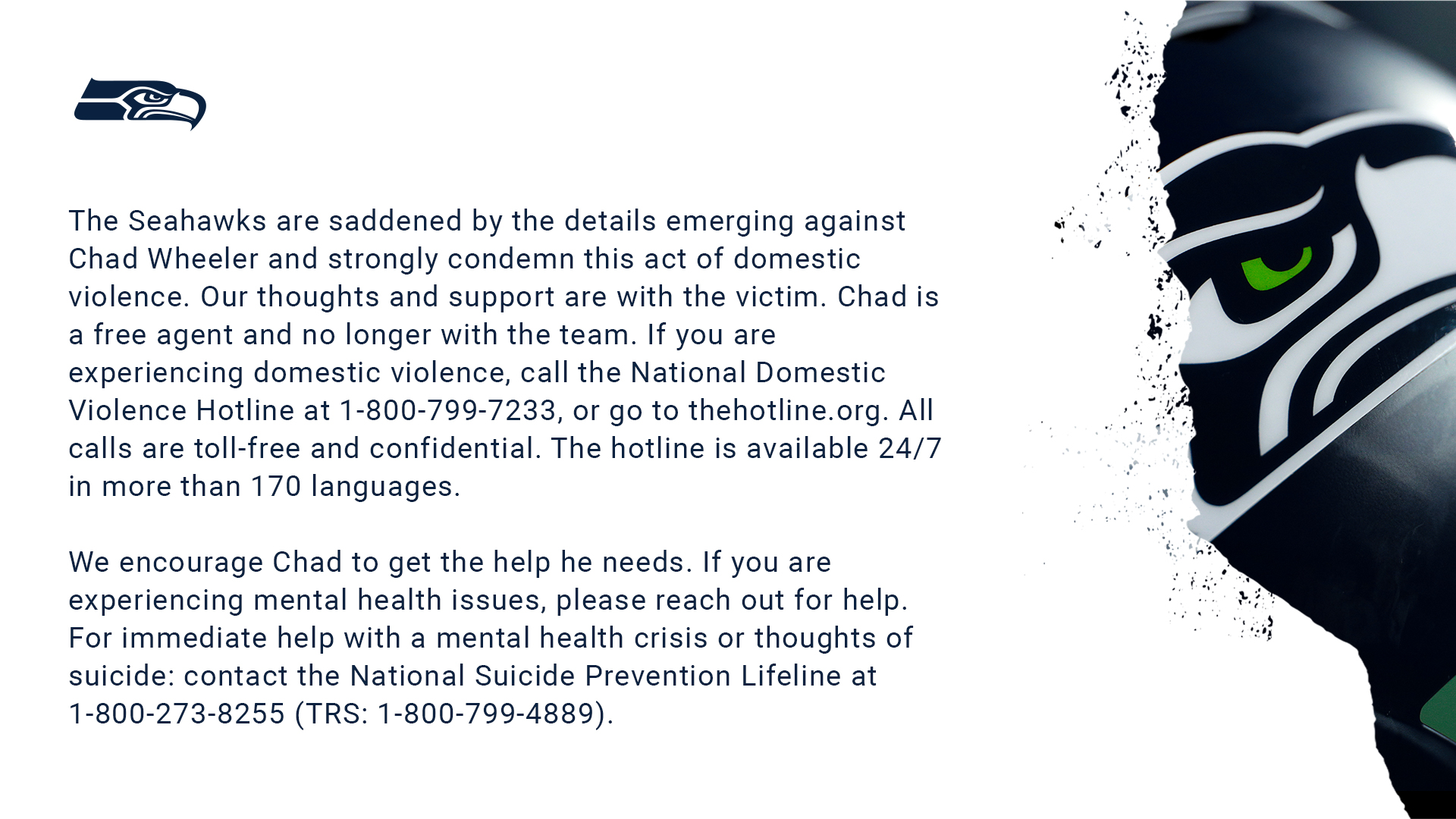 To be "saddened" rather than disgusted? And later to reference the fact that Wheeler is diagnosed as bi-polar by giving out a phone number? No and hell no. On that second count, his diagnosis has nothing to do with the criminal act he perpetrated on a defenseless woman. So let's stop taking any team's word for it when they promise to do right by families and women. They're a corporate enterprise interested in their bottom line, and so once Wheeler has done his time, he'll be a free agent. Remember that.
Conversely, big props to Nate Burleson of the NFL Network for going off script during a recent telecast and mentioning the Wheeler incident. It wasn't a part of the show, until Burleson made it a part of the show. This wasn't a small deal, to break from football talk on the league's network and tackle a subject the league is still fumbling.
"It was heavy on my heart. As I was going through the show, I thought, 'We haven't touched on it and it's been a couple of days.' I wanted to make sure we handle every situation like this the same across the board,"
It's a big deal, and it took a big man to stand up and not be silent. Thank you Mr. Burleson.
Kyrie Irving of the Brooklyn Nets has made it a three-peat at Heroes, becoming the first individual to make three straight appearances. Only this time, it's for all the right reasons. He recently bought the family of George Floyd a home. The dude gives a lot of himself to others without advertising it and so of course he downplayed his beautiful deed by calling it his "service" to those in need. I call it a young man's best self showing up when others need it most.
Head coach Gary Andersen was fired by Utah State last November, with $2.7 million remaining on his contract. Which meant coach was looking at a cool nine hundred thousand graham crackers a year for the next three years to not coach the Aggies. He could've booked passage on a month long cruise, or taken a European vacation, or even splurged on a couple court-side seats to a Lakers game. Instead, he told the school to keep their money.
"Waiving my contract is the correct decision and enables the young men and the program to move forward and concentrate on the rest of this season," Andersen said. "Coaching is not about the mighty dollar. It is about teaching and putting young men in a position to succeed on and off the field. Success comes when all parties involved are moving in the same direction."
Heroic? Probably not. Stoic? Absolutely. And with public institutions feeling the crunch nationwide, Andersen has done his part. (Big thank you to Frank "Beach Walks" Angle for this get).
Dale over at A Dalectable Life chimed in with this beauty of a story about a CEO who's got product on the shelves at Target. Oh yeah, and she's all of six years old.
Lily Adeleye runs Lily Frilly, a girl's fashion brand. Being Boss Lady runs in the family, seeing as her mother Courtney runs a haircare company called The Mane Choice. But this adorable young lady didn't just want to help mom. She wanted to BE mom. And so the dreams of a child have been realized in a way that many adults will never attain. Which just goes to show what happens when you parent your children to follow their dreams.
I'll wrap this puppy in a shiny bow-tie with a story that provided that light I was talking about just last week on these pages. I'm including the video because I figure it's best to deliver this kind of story where you can read it and hear it and see it, especially that. And maybe it's selfish on my part. Maybe I need to cover myself in this kind of good thing because truth be told, my cynical side can behave like a grizzly bear after fasting.
A handful of health-care workers in Oregon were in a bind. They were on their way back from a vaccination clinic when their ride came to a standstill on a snow covered highway. They had six vaccines in tow that were about to expire so they decided to run an impromptu clinic right there. They went from car to car, offering a free vaccination to anyone who wanted it until they had administered the last of their stash, with an ambulance on hand to make sure it all went off without a hitch.
Now, six vaccines may not seem like that big a deal in the grand scheme of things. But I'm sure there are six individuals out there right now who slept a little bit better as a result of this goodwill drive-through. Good is always a work in progress, made up almost entirely of divine patience, brick by beautiful brick, in the quiet of our everyday lives.
That's how the grand scheme of things gets built.