We begin this Friday episode by sending out a group hug to Darnella Frazier. The Minnesota teen whose video footage of George Floyd's death led to the conviction of Derek Chauvin. She was our singular song here last month for a reason. Because this young woman rose up and made sure there wasn't going to be another travesty of justice. She didn't hesitate to make the ultimate difference and as a result, she is the recipient of an honorary Pulitzer Prize.
Ben Crump, the attorney for the Floyd family, issued the following statement:
"The Floyd family is so pleased to see Darnella Frazier honored for her courageous humanity in documenting the murder of George Floyd . . . We are deeply grateful for her heroism which led to justice for George and sparked a historic social change."
Big thank you to Dale for contributing this lead off hit for our Friday roster. And stick around to the end, because in a first here at Heroes, she came up with the closing tune to boot. Those Habitantes really are something, eh?
On to Friday! . . . .
This week, Frank is twirling a twin-bill of truly terrific tales. Okay, I might have gotten drunk on alliteration, but I was on a . . . tear. Too much?
First up is the story of a fairy tale wedding day that went up in smoke, until a community came together to rescue it from the ashes, literally. Check out this Steve Hartman special about how "Newlyfleds" Elizabeth and Jake Landuyt had their reception saved by angels.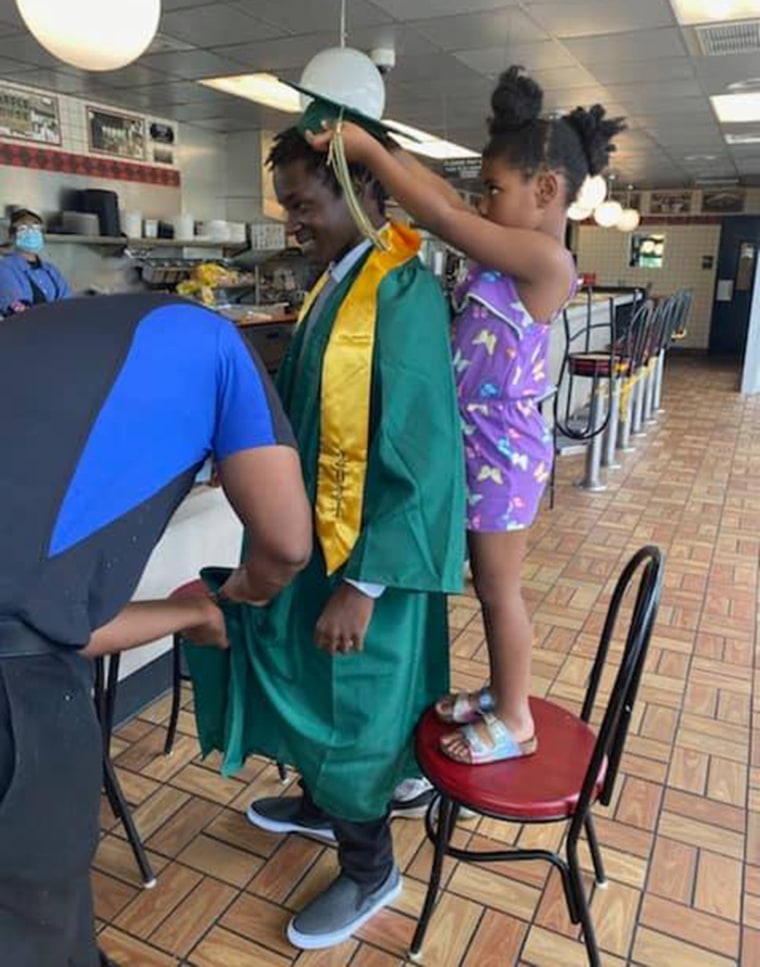 The Cincinnati Kid's capper is all about coming together as a team to get the job done. Which is exactly what the peeps at a Waffle House in Center Point Alabama did when 18-year old Timothy Harrison showed up to work, on the day of his high-school commencement ceremony.
"That's when I said why aren't you going to graduation?" said Cedric Hampton, Harrison's manager at Waffle House. "And he said 'I don't want to miss work.' So I was like, you're going!"
Turns out the Woodlawn High School senior didn't have a cap and gown, or tickets, or even a ride to his commencement ceremony which was taking place across town, so he came to work instead. And then his co-workers followed their boss's lead, determined to make certain the kid didn't miss his big day. They bought him some threads and then a co-worker rode him across town to procure his cap and gown.
Timothy Harrison said putting on those clothes and then donning that cap and gown made him feel like "a million dollars". Made possible by a team that's got a lot more on the menu than just waffles.
They specialize in making tomorrows happen.
Honesty Doesn't Suit Them: If only NFL and NCAA suits would stop peddling this narrative about player safety being paramount. If only they would just fess up to the driving force behind everything they do. If only it was okay to admit that revenue streams are more important than anything else.
The NFL season will expand to 17 games this season, on the way to an inevitable 18 game season during the next collective bargaining session. And the NCAA will be expanding their national playoff from four teams to twelve. In both instances, this will shorten player's careers and further water down what made the respective sports special. And the suits will insist this wasn't about the money, when the fact is, it was all about the money. If only they could admit that money takes precedence without the media bashing them for it while simultaneously sidling up to the trough to collect theirs.
If only.
Imma wrap up this Friday get down with another Super Mama story. And while this woman ain't snaring a baseball out of mid-air with a baby in her arms, 27 year-old Alyssa DeWitt possesses a very impressive skill set in her own right.
Mama had just arrived at the First Street Beach Pier with her six-year old daughter and two-year old son in tow when she began to rethink her beach day plans on account of the gusty winds sweeping across Lake Michigan. The stay-at-home mom, who also happens to be five months pregnant, threw caution to that wind and made camp by the water when she noticed a group of young girls nearby.
"I happened to look up and saw one of the girls waving her arms towards me and immediately knew something was wrong," she said. "I got up, pulled my kids out of the water and ran out onto the pier."
Three girls were clinging to the side wall of the pier, struggling to make it back up. She called 911 but wasn't sure they could hear her, and there was no time to spare. With no one around to help, she knew the girls were going to drown if she didn't act quickly, After instructing big sister to keep little brother away from the scene, she moved to the side of the pier and laid down while reaching over to retrieve the girls. Every time it seemed she was making progress, the waves pushed them back.
"My turning point was when one of the little girls looked at me and said, 'I'm going to die.' That was it for me and I was like 'I'm not going to let you die, I'm going to get you out of this water, I promise.'"
The adrenaline rush made all the difference as Alyssa finally pulled them up over the pier wall and to safety. And while she suffered a sprained wrist, we're happy to report that both mama and child are doing just fine. And big sister is reportedly in negotiations to secure a summer's supply of ice cream for her part in the rescue mission.
Something tells me she's going to get it.