With the Olympic games officially in the rearview, it's back to the regular grind of good meeting better for this Friday the 13th episode. And as per usual, there is plenty of both to fill us up for our ride into the weekend. This week's roster was a convergence of sadness and hope, heaven and . . . Kevin Costner? . . well, sort of.
The image above commemorates the 85th anniversary of Jesse Owens winning four gold medals in the 1936 Olympic games in Nazi Germany. With Adolf Hitler looking on, the track and field legend stood tall in the face of evil. Many credit Owens with delivering a blow to the myth of Aryan supremacy. Michael Wilbon opined that the further away from this defining moment we get, the fewer people remember how very important it was. We can't accept such a fate as that, we just can't.
Let's get to Friday . . .
Many of you (yours truly) may know Julie Bowen as the hot mama from the long running show Modern Family. Welp, she made news recently after coming to the aid of a hiker along Utah's Arches National Park trail. The hiker, Minnie John, had started feeling dizzy as she set off with her husband and son, so she told them to carry on without her. As bad luck would have it, she lost consciousness once they were out of sight, falling to the ground and bashing her nose.
As very good luck would have it, that's when Bowen and her sister Annie- a doctor- happened along.
"All I remember is sitting there with my head in my hands secure on the rock. Next thing I hear someone with a familiar voice kept asking me questions. I wondered if I might be watching TV," she wrote. "My eyes were closed and they said I will be fine and they were cleaning my face and bandaging me up. I heard that familiar voice saying I am going to be okay, a doctor is cleaning me up."
Score another one for mom.
Thank you to the MLB for having a clue about something. The sport that has effectively been stripping its unique patina from the former national pastime in favor of progress (translation: greed) went back to class last night. Across nine innings, the sport returned to its golden age as the Yankees and White Sox played a game in the cornfields of Iowa. The "Field Of Dreams" game in Dyersville, Iowa- near the site of the iconic motion picture of the same name- became the first MLB game ever played in the state.
It began with Kevin Costner walking out of the cornfields to get the festivities started and it ended with Tim Anderson of the White Sox smashing a two-run homer off Zack Britton to win it 8-7. In between, it was an old fashioned slugfest with a hand operated scoreboard and throwback uniforms and an idea whose time has finally come. After seeing the enthusiastic reception, MLB Commissioner Rob Manfred announced the game will return to the site. So basically, they built it . . and they will come back.
I'm not sure if it was heaven, but I'm thinking W.P. Kinsella was keeping score from above.
To paraphrase the great William Butler Yeats . . there are no strangers here, only a group of individuals who haven't saved your life just yet. Which is what happened when a woman's car plunged off the Eau Gallie causeway and into the Indian River in Melbourne, Florida in the early morning hours of July 21st.
Upon witnessing the car lose control, flipping upside down into the water, a couple pulled to the side and gave chase on foot. While the woman called police, the man jumped in the water and kept the driver's head above water best he could until officer Peter Dolci arrived. After extricating her from the vehicle, the couple, along with officers Dolci and Luke Drummer administered CPR. Check out the police bodycam footage above, because it speaks to how precious every human life truly is; and how hard people, even complete strangers, will fight to keep that light from being extinguished.
Kindnesses are like wildflowers. They color our world while reminding us that beauty is everywhere if we just stop to take a breath and drink it in. Such was the case for Megan King- a waitress at Perkins- who took a few minutes out of her busy day to talk with an elderly woman who was dining alone.
"She [the customer who left the note] came in about halfway through my 17-hour shift, and it was on Sunday, which is always pretty busy," said King. "About halfway through her meal, it started to slow down so we chatted for a few minutes. Small talk, nothing too deep. She told me she was almost 70 and has been slowing down a bit,"
Once the woman had left, King retrieved the check and her tip, beside which was a handwritten note which read as follows . . .
Thank you very much for your kind service. This was the first time eating out alone since my husband passed. I was hoping I could get through it.
Needless to say, Megan needed a minute. She excused herself from the floor and she did what any of us would have done in the same situation. She cried, hard. And after taking a few deep breaths, the great big world outside was feeling more like a hug than a hot mess. Because the greatest thing about being kind?
You get it back.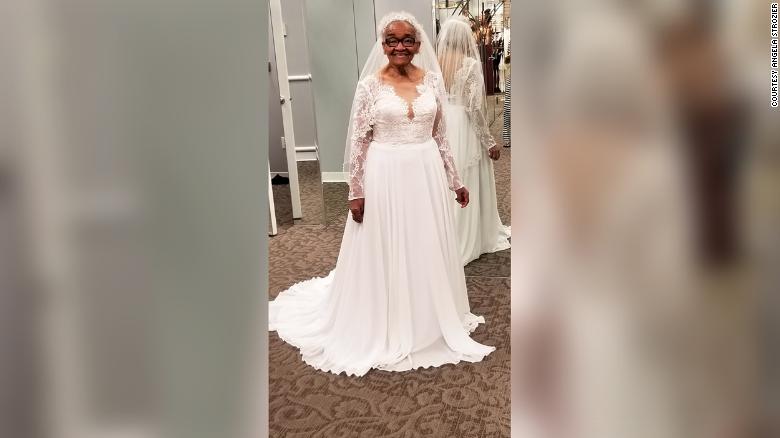 Martha Tucker was twenty four years old when she met a man who made her feel as if she was dancing on the moon. To be young and in love would seem to be a gift sent from the stars above, excepting for the fact she was a black woman living in the deep south at the time.
In 1952 America, like most black people, Martha found herself on the outside looking in. She married Lehman Tucker in Birmingham Alabama, without ever stepping foot into a bridal shop as a result of segregation laws.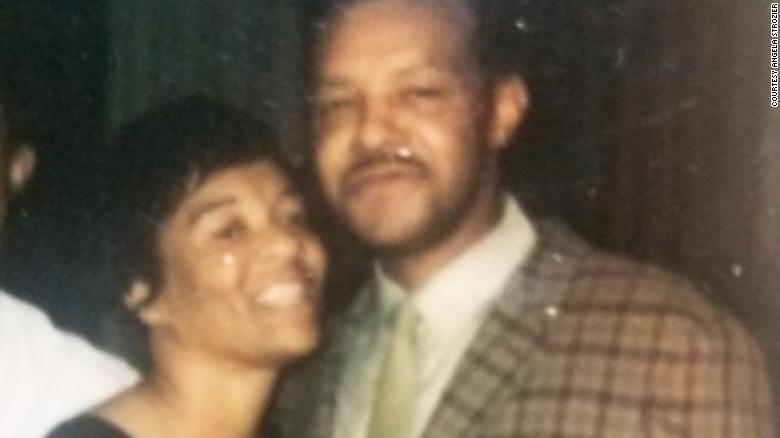 "During that time, we couldn't just walk in those stores," She says. "I tried not to think about buying a wedding dress because I knew I wouldn't even be allowed inside. I was very upset about it, but it's not like there was anything I could do."
A dream denied, but never forgotten. It was that dream that came back to life recently as Martha was watching the wedding scene from the 1988 movie Coming to America with her granddaughter Angela Strozier. She confided that it had always been her dream, to be able to try on a wedding dress.
"I never thought of my grandma's dream of wearing a wedding dress because I didn't even know it was a dream they were denied," Angela said. "Women like my grandmother sacrificed so much for us to have the liberties we have now. For someone to be denied the simple opportunity of purchasing a dress of her choice really shone a light on the reality of our history,"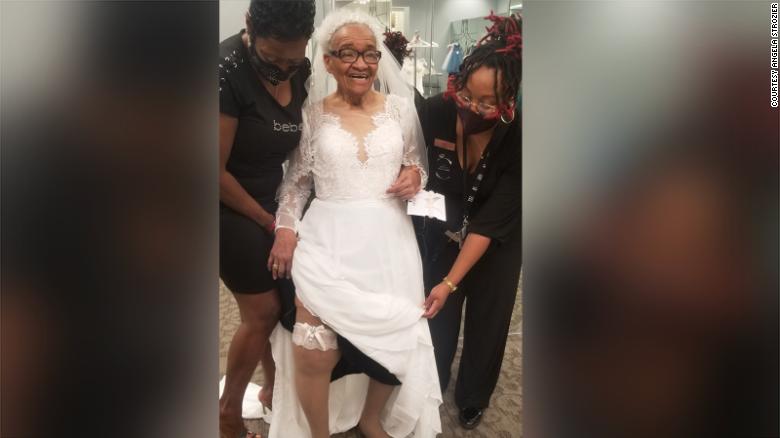 On July 3rd, the ladies went to brunch before heading over to David's Bridal in Hoover, Alabama. That's where Martha Tucker turned back time, sixty-nine years worth of time, when she donned a V-neck gown with embroidered sheer sleeves and sequins throughout. And then she walked down the hallway, imagining Lehman by her side even though she lost him to a heart attack in 1975.
For a moment in time, this moment, she was that twenty-four year old girl holding forever in her arms. "I wish he was here to see me in the dress. When I got married, I promised myself I would wear a wedding dress one day, and at least I finally did."
Love always wins.