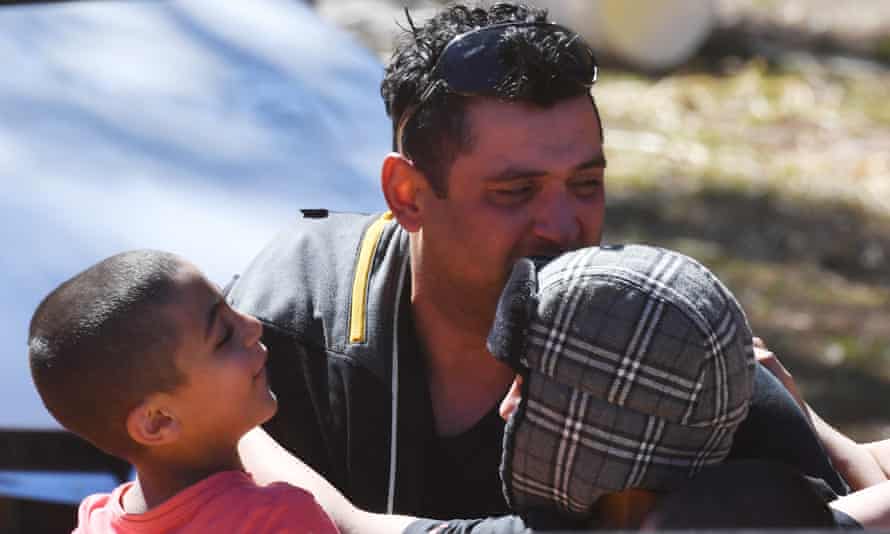 Welp, it's good to be back in my Friday parking space for the first time in a fortnight. I must kick off the festivities with a tip of my eleven-gallon hat to the inimitable Frank "Beach Walks" Angle and the lovely Dale for doing a bang up job in my absence. Muchas? Meet Gracias . . and take a bow, you two!
We kick off this episode with the story of Anthony Elfalak, a three-year old Australian boy who was found after a harrowing four day search of the family's rural property north of Sydney.
AJ, as he is called by family and friends is autistic and non-verbal, which made the search for the young boy that much more challenging. The prospects of finding the toddler safe and sound diminished with each passing day, given the more than 700 acres of wilderness that comprise the property. One person described the landscape as a "maze" of canyons, cliffs and bushland.
Thanks to the efforts of police officials as well as a search party of more than 385 people, the massive undertaking had a happy ending when AJ was found a third of a mile from his home. While some feared the worst, the men and women responsible for his safe return never wavered. A paramedic who treated AJ referred to him as a "little survivor", but we shouldn't forget the lesson in all this.
It took a village.
We don't expect much from ESPN, and for good reason. But they have officially jumped the shark with their latest embarrassment.
IMG Academy- a finishing school for top prospect football players funded by the agency of the same name- played Bishop Sycamore High School on the four-letter network a couple weeks ago. If it was purely a matter of ESPN laying a wrecking ball on high-school athletics in the name of ratings dollars, we'd shrug, since they do that all the time. But this game, it was different. How different, you ask?
Well . . umm . . Bishop Sycamore . . isn't actually a high school. When real journalists- as in, not ESPN personnel- started asking questions about the alleged accomplishments of the Ohio based school, the ruse was uncovered. It was yet another pay for play scam crafted by their ringleader/head coach Leroy Johnson, who has an arrest warrant out on him for "fraudulent misrepresentation, conversion, and unjust enrichment,".
As for the game, IMG routed Bishop Sycamore by a score of 58-0, but the good news is that none of the not ready for varsity players was injured in what was a seriously dangerous situation. Add that to the fact that the faux school had played a game just two days before facing off against IMG . . another little fact ESPN somehow missed.
Shameful just doesn't say enough.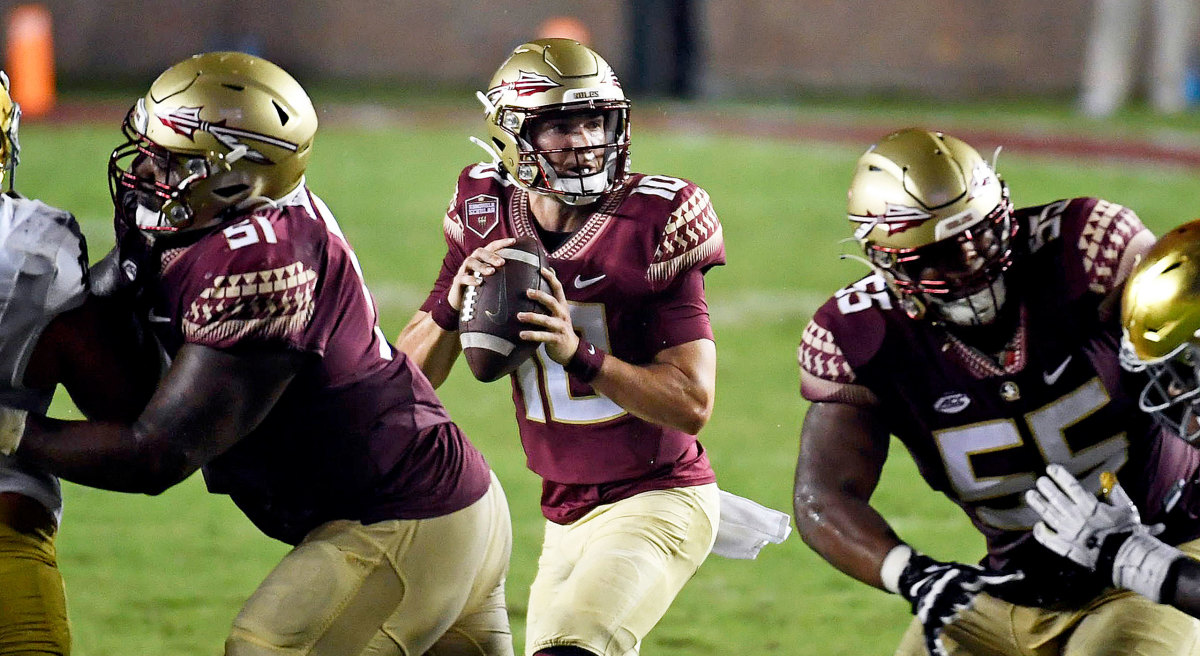 A quick shout out to McKenzie Milton for achieving what many believed impossible in a game against the Notre Dame Fighting Irish last weekend. Milton is the quarterback for Florida State these days, but in his last football life with UCF, he suffered a devastating leg injury that put an end to his playing days.
Milton didn't see it that way, and almost three years later he was back on a football field, completing a 22-yard pass on his first attempt. His team came up short on the scoreboard, but Milton was the biggest winner of the night just by showing up. At the time of the surgery that would save Milton's leg, his surgeon said the hope was that one day the kid would be able to walk without pain. "Anything above that would be a bonus,"
Dr. Bruce Levy was there on Saturday night for the bonus round.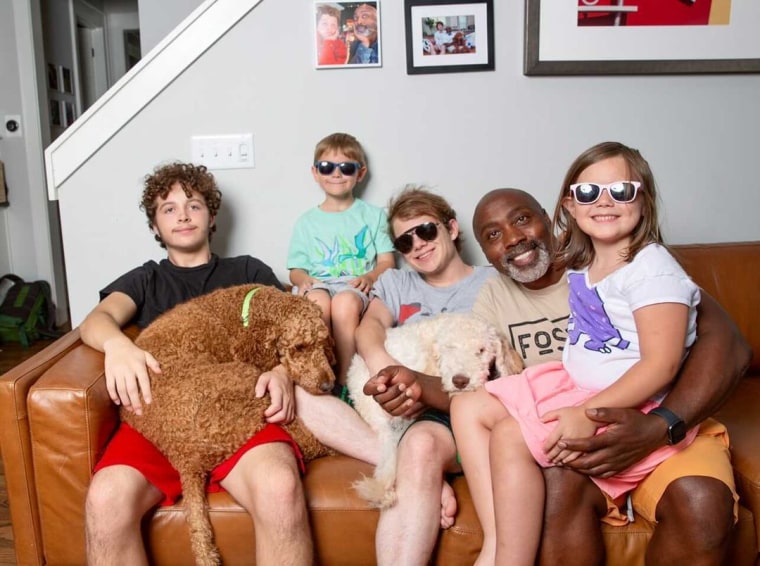 The lovely Dale is chiming in with two stories this week, one of which serves as the capper to this episode. Imma start with this tale about a foster dad who brings a new and wonderful meaning to the idea of a full house. And not for nothing, but he's loving every moment of it.
Peter Udabazi ran away from his home in Uganda when he was just ten years old. He fled an abusive father and lived on the streets for a time until someone took him in. It was a lesson he never forgot, and he vowed to give back in that very same way one day should the opportunity arise. After moving to the states after college, he went to work for World Vision- a non-profit organization that helps children. In 2017, he became a foster parent and in the time since he has fostered more than a dozen children.
It was 2018 when he met Anthony- an 11 year old boy who had been abandoned by his adoptive parents. And that's when the lesson he had carried with him, all the way from Uganda, showed up. "Anthony would always ask me, 'Hey Dad, when will I be officially adopted?'" Mutabazi said. "And of course, with foster care you never know when."
In November of 2019, it became official. After which COVID happened to the world and Peter witnessed another dilemma taking place at agencies across the country.
"With foster care, they are overloaded with kids and I could not imagine a kid wanting a safe place to be loved in the midst of this . . . I could not say no," Mutabazi said. So he had to find a way to give more. Because people like Peter always do. And so, as of this publication, the Mutabazi household is now home to four kids and two dogs . . and counting.
It's a stay tuned kind of deal, but nobody's complaining.
Frank "Beach Walks" Angle sent me this next story and I'm going to provide the link (right here) since I wasn't able to fetch the video for it. The video above is from a GMA piece that ran shortly after one of the deadliest mass shootings in Greater Cincinnati.
Whitney Austin is a mother of two who became a casualty of gun violence on September 6th, 2018. As she was walking to her job at Fifth Third in Cincinnati, a gunman opened fire; killing three people and wounding two others, including Whitney, who was shot twelve times and yet, somehow survived.
She refuses to call herself a victim though. She started Whitney Strong as a way of educating others while pushing for legislation that could help stem the tide of gun violence in this country. Listen to these two videos and I'm sure you'll come away with the same opinion I did.
We have to do better.
Tomorrow marks twenty years since a clear blue sky turned ruinous. Twenty years ago, morning became night and it changed this country forever. For those of us who lived through that day, September 11th does not feel twenty years removed from our memory banks. Because when we think back on the day, we are right back inside the shock and anguish, the horror and grief.
As we have learned many times before and since that Tuesday morning, all of our first responders have one thing in common. They show up every day with the idea that they might not be going home. They fight fires, they respond to mass shootings and they care for the injured and the sick, putting their lives on the line in the service of their communities.
When a 15-year old lab mix named Zoey went missing in Arlington, Texas recently, the neighborhood got to stepping in their search for her. From social media engagement to knocking on doors to calling out her name countless times even though they knew it was fruitless because she's deaf. In those desperate moments, all that mattered was finding her safe and sound.
Two days after she went missing, city water crews located Zoey in a storm drain. They set up a camera to monitor her condition, after which the city's first responders went to work saving her. Firefighters, police officers and paramedics worked tirelessly; using everything at their disposal, from jackhammers to pneumatic saws. They worked in the extreme heat for almost half the day until they were finally able to pull the lab to safety.
Zoey is going to be just fine thanks to first responders whose mission it is to overcome any challenge and help anyone who needs their help. And it brings to mind the last passage in the firefighters creed, which, truthfully, speaks for anyone who puts on a uniform in the name of service.
' . . I shall endeavor to be one of His noblest works . . ."
God bless all our heroes.