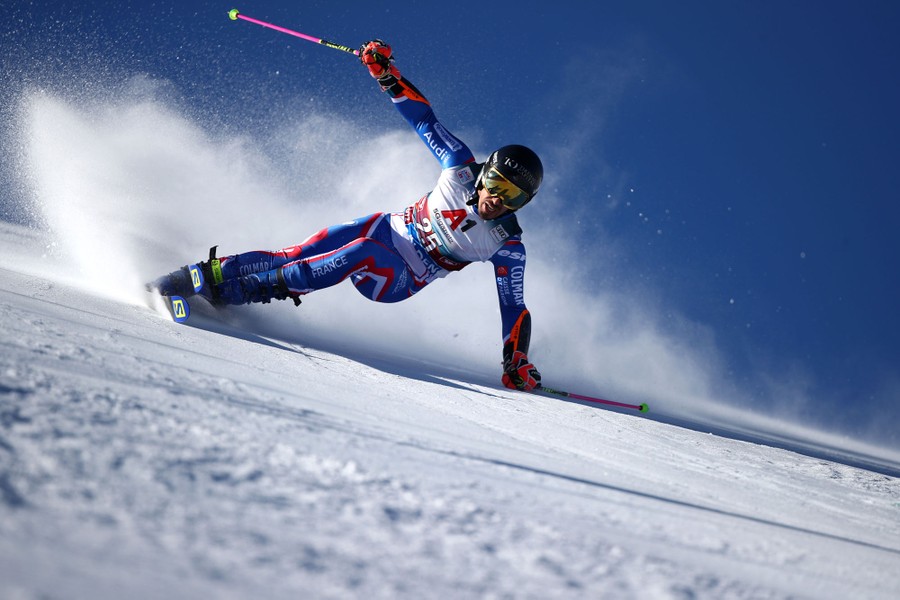 That's France's Victor Muffat-Jeandet competing in the first run of the Men's Giant Slalom in Solden, Austria. Which I stuck on the marquee seeing as how there are ninety-one days until the winter games in Beijing. And uh . . talk about worlds colliding, huh?
The Atlanta Braves lost four key starters over the course of the 2021 season. They didn't reach .500 until August 11th. Their payroll is smack dab in the middle of all MLB clubs. I wouldn't be able to name a single one of their starting pitchers. And none of that matters, because they're World Series champions for the first time in twenty-six years after taking down the Houston Astros in Game 6 on Tuesday night. The great baseball novelist Roger Angell once said, 'Baseball's absolute unpredictability makes amateurs of us all", to which I must agree.
Okay, how many people can say they dressed as a meme of themselves for Halloween? One person, that's how many, and his name of course . . is Steve Buscemi. He took a page from his character on 30 Rock and bugalooed it into a Halloween win for his Park Slope neighbors. Here's hoping he dusts off his black suit from Reservoir Dogs and goes as Mr. Pink next year.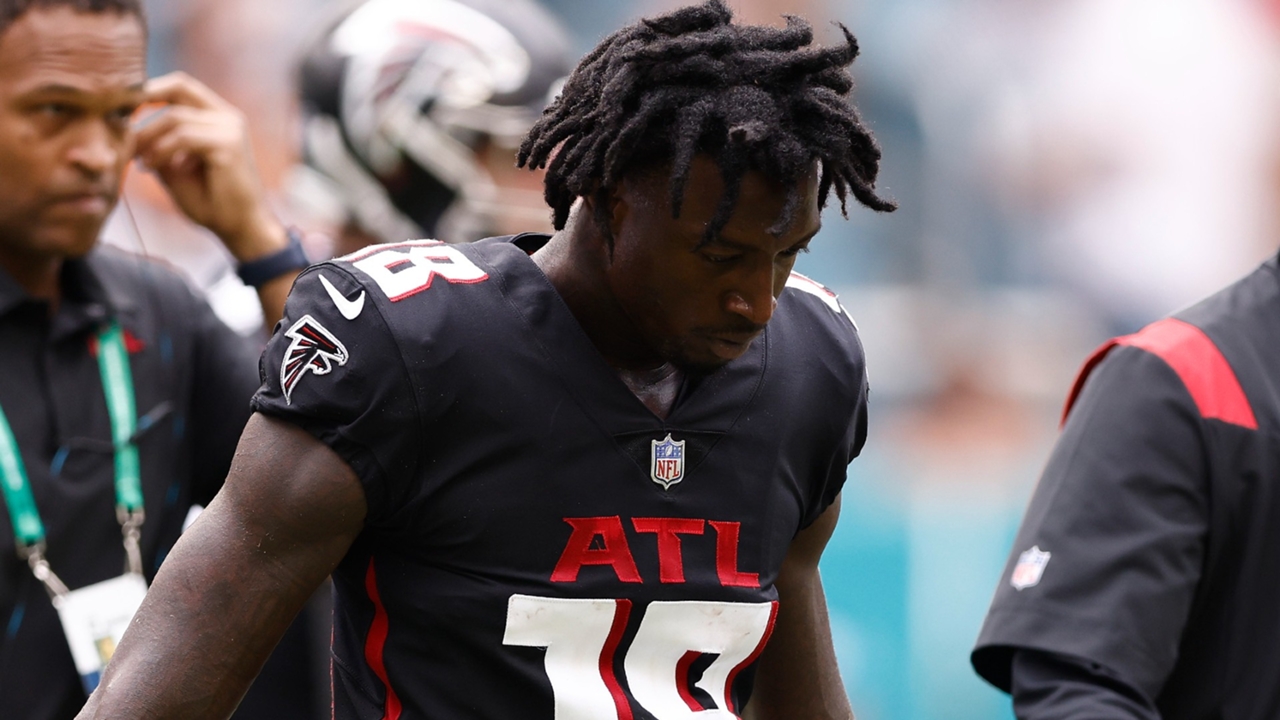 Mental health awareness has made the starting lineup across every sports league over the past half decade as more and more athletes are sharing their stories. This past week, wide receiver Calvin Ridley of the Atlanta Falcons announced he was stepping away from the game temporarily to focus on his mental well being. And Philadelphia Eagles left tackle Lane Johnson told Fox Sports broadcaster Jay Glazer on Sunday that his battles with anxiety led to his three-game absence earlier this season. Ridley is a rising star while Johnson is an established veteran with a ring, so their voices will be heard.
Country music star Luke Bryan went all "Dad mode" when he spotted a motorist with a flat tire stranded on a busy road in Tennessee. The Leesburg, Georgia native (Go Bulldogs!) pulled over, grabbed a jack and lug wrench and got to stepping. Courtney Potts and her kids were heading home when all this happened.
"I got out and did a double take and as soon as I heard his voice," she says. "I didn't even have time to be in shock because he's like, 'Look, we really need to get you out of this road because I almost hit you.'"
Gold records and a heart of gold? Pretty fly for a country music guy.
Micro-Review of Mr. Mercedes Season 2- I was trying to think who Brady Hartsfield reminded me of and then it came to me. Trump. That . . is some scary shit right there.
A special shout out to Margaret Dilullo, who will turn 107 years old in a few days. If you're scoring at home, that means she remembers a time before Instagram . . . and a lot of other stuff. Yuengling heard about her beer crush and gifted twenty cases of the stuff, which means no beer runs for the next year and a half.
The Miami Dolphins will play the Houston Texans on Sunday in a game with no discernible purpose whatsoever. Both teams enter the contest with identical 1-7 records and hold as much chance of making the NFL playoffs as the Milwaukee Brewers. Health officials are swallowing hard on the risky biscuit of large gatherings, but in Florida, that's a losing proposition. Dolphins PR Director Darius Rucker looked to assuage this concern when he issued a statement which read, in part, ". . there will be more people in attendance at Robbie Siegel's Bar Mitzvah in Miami Gardens, by a lot. The Dolphins have figured out how to keep Floridians from gathering in large groups. Bad football,"
Dear Aaron Rodgers,

We realize you are so much smarter than the rest of us. You tell us so every time you appear on Jeopardy . . or in one of those super snarky State Farm commercials. And most of us were on your side when you went all Sun Tzu on the Packers front office. But then you went and switched out 'immunized' for 'vaccinated' and you might've gotten away with it if you hadn't tested positive this week for COVID. Listen, you're not a golfer or a tennis player. You're the QB . . in a team sport. And this latest news reminds us, it's too often all about you.
Several years ago, I rant-posted on the clear and future dangers of riding shotgun with the infernal algorithms that promised y'all a better social media life. The same way I don't trust a politician to deliver me my daily bread, I ain't trusting a guy like Zuckerberg to transform into the Dalai Lama for little ole me. So now we're supposed to be shocked that he chose profits over peace? He's mea culping his way to a hooked up crib on that remote island Tom Hanks made famous, which means even if he goes the way of Howard Hughes, he'll be ayt. But it's the eternal cloudiness of the spotted mind I'm worried about. We live in a world where people mistake being social media savvy with social awareness. And while we were sleeping, incivility became the latest fashion; to such a degree that a quarter of all conservatives now say violence is the only way to solve our nation's problems. So fine, change the name of Facebook . . . Call it Meta, call it whatever you want to call it. I call it too little, too late.
The democratic party is playing like it doesn't have a choice in the matter, when choice is really the only thing that's going to save us from a horror movie outcome in 2024. The progressives got slam dunked in much of the country, and as a result someone in the party has to grab a hardhat and get to hammering out a blueprint that emphasizes moderation. Pronto. The GOP continues to be the party about nothing; no fresh ideas, plenty of obstruction and too much black mirror dialogue. And yet, Tuesday happened. Democrats lost the Virginia governorship and then almost lost New Jersey as well. And over the top police reform didn't cut it in Minnesota.
The good news is, people got out to vote. Let's hope that doesn't turn out to be bad news in two years.
J.K. Rowlings, when asked about the power of words was quoted as saying they are our most inexhaustible source of magic. I got to thinking about that quote whilst reading up on Neffiteria Acker. She teaches math and science at Kindezi at Gideons Elementary School in Atlanta, Georgia and she's working a magic all her own.
She's taken to a daily regimen with her kids where she has them stand in front of a full length mirror first thing in the morning and say something positive, to themselves. It can be anything from "I'm smart!" to "I'm a good person" to "I'm strong and independent" with the only rule being, it has to supply the feels that will set the tone for the rest of the day.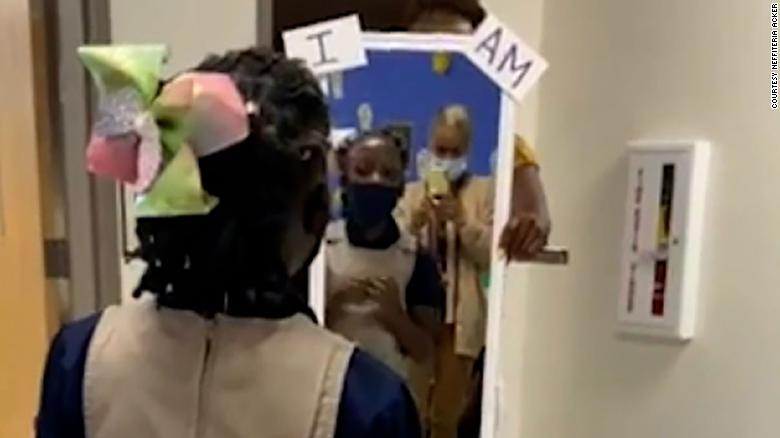 A lot of her kids are coming from neighborhoods that challenge their ability to have a positive outlook, so it's understandable if maybe they get stuck at first. And that's okay, because teach provides cards to help them out. Yeah, she has cards she printed out herself with different affirmations and she'll encourage them to borrow one and to speak the words. Okay, so maybe I lied. Because Acker has a couple more rules going on: Speak up, be loud and be proud and be true to the person who's staring back at you.
"The best part about doing the affirmations is the feeling after I say them," Acker says. "And the feeling I see my students feel or that they express after they do them. Their attitude is better, their self-confidence is lifted and we have a better day."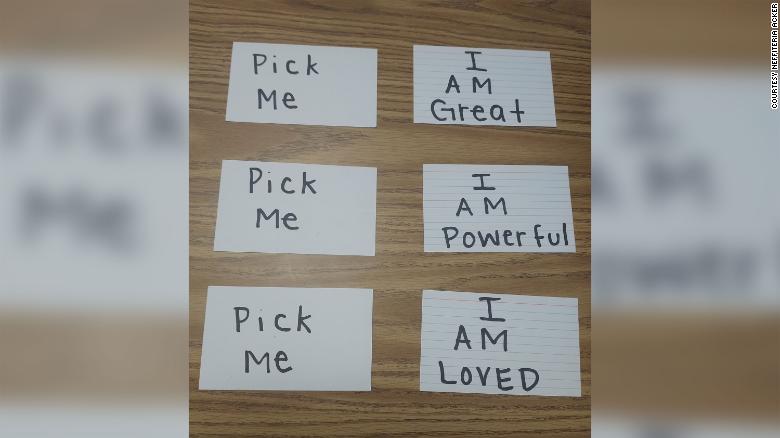 She is noticing a change in her students, a good one that speaks to the confidence she is helping to instill in them. It's been a trying year for most everybody on the planet, but for these kids it's been a wholly different kind of trying time that has tested their too young minds to the hilt. And even so, the arrow is pointing up in terms of the positive interactions that are happening as a result of the morning ritual. And when words become a source of magic to a child, the world becomes a less daunting place and dreams become that special place worth reaching for. Because words can be used to hate or to love.
There's a teacher in Atlanta, Georgia who chose love.