One of the very best days of a New York City year happened again last Sunday with the 50th running of the New York City Marathon. Like most fans, I was really bummed that we lost this event to the pandemic last year, and as if we needed a reminder, this year's race was limited to 33,000 runners for the very same reason.
As for the particulars, Albert Korir nabbed the top spot for the men's side while Peres Jepchirchir placed first among the women. Marcel Hug won the prize in wheelchair and Roderick Sewell II won handcycle.
If you didn't get a chance to tune in, do yourself a favor and check some of it out on YouTube. You'll get the panoramic city tour AND a sporting event.
That's called value added.
The Henry Ruggs saga is indicative of a different kind of privilege: The one afforded millionaire athletes who flout rules and laws out of a misbegotten sense of entitlement. Listen, there are plenty of non-athletes who are young and rich who behave just as recklessly as Ruggs did last week when he rammed into a Toyota Rav while doing 156 mph on a residential street. The difference is, athletes are gifted a podium, and so, before 23 year-old Tina Tintor was even laid to rest, other athletes such as Kadarius Toney were tweeting all manner of incivility about how Ruggs was a victim too. No, he was not. He was well aware of the repercussions of his actions long before he got behind the wheel of his Corvette. And unlike the majority of the population, Ruggs was afforded round the clock chauffeur service as per the league CBA that grants it to all members. He chose instead to drive as if he was attempting to qualify for the Indy 500, with a loaded gun in his vehicle. So spare me the narrative that Ruggs kept his nose out of trouble when it's tragically obvious he just hadn't met up with it yet.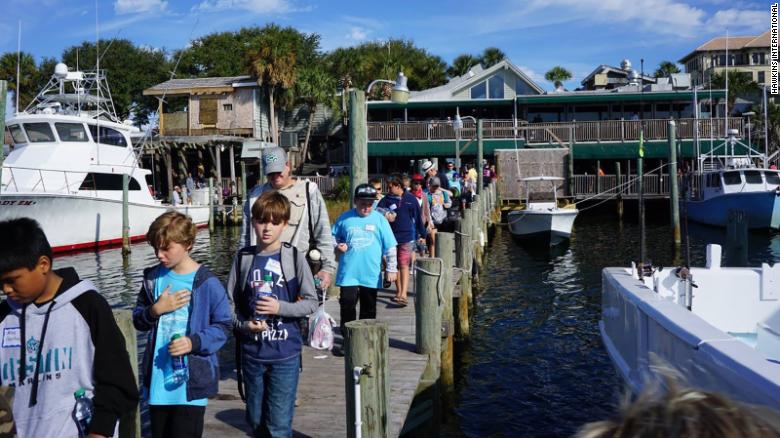 Eddie Morgan is a fisherman who tells the kind of tales you can really believe in. Morgan is the owner of Harbor Docks- a marina and seafood restaurant which has become a Destin, Florida institution. And while that reputation was earned with superb fare and excellent service, it's what the family business does for the community at large that has made them larger than the biggest fish known to Hemingway.
27 years ago, Eddie's father started something called "Take-A-Kid-Fishing Day" in which hundreds of local children between the ages of 7-13 were taken on a fishing trip on the first weekend of November. And all this time later, the tradition has continued. They head out bright and early to a fishing hole dubbed "The World's Luckiest Fishing Village" aboard 50 charter boats, and then they get to casting.
"The fishing industry is what makes our area so special. And people growing up in our area should know what that is and appreciate it," Morgan says. "A lot of these kids have never been fishing before. So if they go, they go fishing and they love it. And we give them a fishing rod when they leave so they can do it on their own."
Now that's a nice catch.
My favorite quote of the week comes from Falcon's Swiss Army Knife Cordarelle Paterson who was asked why he plays so many positions. "If my mom could go out there and work three jobs, I can go out there and play three positions,". Dylan Suiter of Vandalia, Ohio has a sweet bead on all things philanthropy, like . . for reals. Whilst out trick or treating last weekend, Suiter came upon a house with (Egads!) an empty candy bowl on the front porch. But for this quick thinking kid, that was no thing. He just donated some candy from his own bag so that his compadres wouldn't be going without.
The random act of sweetness went viral and now Dylan is getting noticed by a ton of peeps, including Ryan Reynolds; the star of "Free Guy", because yes, that's who Dylan's costume was based on. So he's got the neighborhood vote, he's got the Tik Tok Army, he's even got some Hollywood love being thrown his way . . and don't forget the American Dental Association.
Can we lower the minimum age for President?
The tragedy that took place at NRG Park in Houston this week fits the description of insanity to a frightful degree. Because Travis Scott, the rapper who headlined the evening's festivities, is known for stirring up trouble at the venues he plays. And Astroworld was no different, as officials reported fights and unruly behavior throughout the afternoon and evening.
When Scott took the stage at a little after 9 p.m., things began taking a turn for the worse as concert goers began rushing closer to the stage. A stampede of human carnage ensued, during which time the concert continued. So as human beings were being crushed, the music still played. And this morning we're looking at nine casualties and myriad questions. The one thing we know for certain is that a tragedy could have been prevented.
The other thing we know for certain is that it wasn't.
Micro-Review of "The Harder They Fall"- Imagine Quentin Tarantino and Spike Lee had a baby. A quick-draw action packed two hours worth of Yee! Meeting Haw! 
Last week we celebrated Margaret Dilullo's 107 years and today we celebrate 16 month old Curtis Means making a different kind of history. This handsome young man set the Guinness world record for being the most premature infant to survive when he was born 19 weeks before his due date. Sadly, his twin-sister C'Asya did not make it. But Curtis somehow pulled through with a weight of 14.8 ounces at birth.
In case you were wondering, Alabama Head Coach Nick Saban has already put in a call.
And Imma wrap up today's episode with a heartfelt thank you to veterans everywhere. Veteran's Day was yesterday and as per usual, I took a moment to thank my pal, Big Papi, for his service. It's the only time the two of us are ever really serious about anything, but hey, it still counts.
And it always will.