The Macy's Thanksgiving Day Parade celebrated its 95th birthday yesterday. The world's largest parade introduced Toni the Bandleader Bear, who was one of six new balloons to make an appearance. Parade goers were treated to a beautiful morning with temps in the mid-thirties and there were no incidents.
With the current state of the world being what it is, consider it a blessing.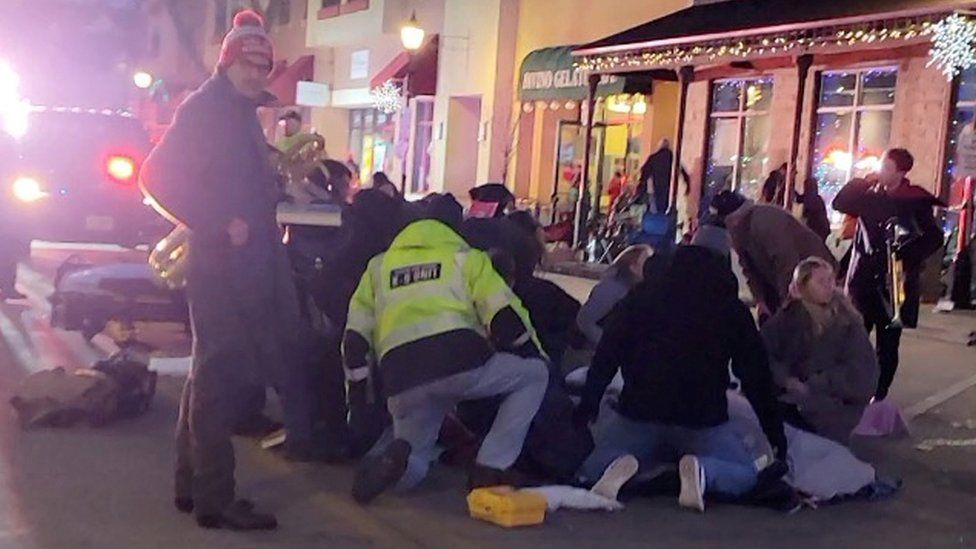 Because we need to save all the blessings we can find in a world gone mad. And that madness found its way to Waukesha, Wisconsin on Tuesday. 39 year old Darrell Brooks Jr. had a history of violence that included running over a woman with his vehicle earlier this month. His bail was set at $1,000 and he was without within a week. And that's how a really bad guy, one who shared pro-Hitler memes and called for violence against white people, was able to become even worse.
He fulfilled that evil promise when he plowed into a Christmas parade, killing six people and injuring at least 40 others. And now we're left to wonder why the system fails us when a complicated world needs it the most. And now we wait for that most sinister of narratives that seems to follow these tragedies.
What's next?
Micro-Movie Review: With a lineup featuring Ryan Reynolds, Gal Gadot and the Rock, "Red Notice" was going to be a good time. And it was. 
It has been thirty-five years since the USFL spring football league closed up shop. It had carved a niche in its four year existence and may have been able to stick around if a few of the league owners hadn't pushed for a move to the fall. One of the most vocal proponents of the move was New Jersey Generals owner Donald Trump, who believed it would expedite a merger with the two leagues. He even won the lawsuit his league filed against the NFL . . in the sum of $1, which was tripled to $3 as per antitrust laws. And that, was that.
Until now.
The league will begin next spring by bringing back eight of their original clubs. While the USFL isn't likely to lure college stars the way it once did- Hall of Famers Steve Young, Reggie White and Jim Kelly began their careers there- who knows? It might be able to convince Tom Brady to give them a shot . . .
The Miami Dolphins Weekly Report: The Miami Wine Festival will take place this Saturday evening at 7 pm on Lakeshore Drive. Tickets start at $49.
Ian Fishback passed away last Friday at an adult foster care facility in Bangor, Michigan. While the cause of death has not yet been determined, his family claims Fishback's neurological condition had worsened as a result of post-traumatic stress disorder resulting from tours in Iraq and Afghanistan in the early 2000's. Fishback was part of the Army's 82nd Battalion when he first reported the systematic abuse of prisoners by fellow soldiers. It took nearly a year and a half before someone finally listened.
His letter in 2005 to top aides for Senators John Warner and John McCain would result in the Senate passing the Detainee Treatment Act, and later in the year he was named one of Time Magazine's 100 most influential people in the world. But while he constantly strived to give back, the ghosts of his past proved unrelenting.
"We know the community supported Ian through his recent difficult times," the Fishback family said in a statement. "He faced many challenges, and many of us felt helpless. We tried to get him the help he needed. It appears the system failed him utterly and tragically."
The saddest of truths is that Major. Ian Fishback gave the world so much more than it ever gave him in return. He was forty-two years old.
Remember in the late '90's when Hollywood made an asteroid of itself with movies that predicted the next big bang in the form of a cosmic rolling stone crashing into our shiny blue marble and how humanity had to devise a plan to show them the door? Welp, maybe those storylines weren't as far fetched as we thought after NASA launched a spacecraft called DART into space on Wednesday . . because, science!
The purpose of this planetary plunge is to see if we might be able to stave off a blockbuster scenario before reaching the final credits by blowing up an asteroid. By early fall of next year, we'll lower the boom on Dimorphos- a football-field sized asteroid- and see what happens. If all goes well, scientists might be able to use the data to keep a hypothetical scenario from really happening.
As for Bruce Willis, he was unavailable for comment.
Green Bay Packers quarterback Aaron Rodgers refuted the ridiculous claim that his toe injury was the result of "Covid toe" by baring his foot for all to see during a press conference. And we can be super thankful that it wasn't being reported that he had "Covid balls" . . .
"They almost got away with it,"
That was the general consensus after three men- Travis and Gregory McMichael and William Bryan- were found guilty in the shooting death of Ahmaud Arbery. An all white jury didn't let these guys off the hook, even though local law enforcement officials almost did two years ago. Because the three were not arrested until a video of the shooting from Bryan's phone came to light . . . several months later. Let that sink in a moment.
The defense used the argument that the men were simply making a citizen's arrest of a young man who didn't belong in the neighborhood, and that the shooting was in self defense. Because it seems that frontier justice is back in fashion.
Thank God it didn't work this time.
Monika over at Tails Around the Ranch is coming out of the bullpen to be our Mariano Rivera for this week's episode, with a story about how thanks met giving in Jackson, Mississippi.
Adeola Olagbegi is only thirteen, but he's already experienced a lifetime's worth of adversity. Abraham, as he's called by friends and family, has a rare blood disorder. After countless rounds of chemotherapy and a bone marrow transplant, Abraham is out of the hospital and ready to take on the world. Or give back to it. How's about both?
While recovering from his battle with aplastic anemia, he learned that he had qualified for a dream wish from Make-A-Wish Mississippi. He might have wished to meet someone or go somewhere, or be gifted something . . . and let's just say he went a little bit off script with his request.
You see, Abraham decided he wanted to feed the homeless in his community for an entire year. So be cool LeBron, and maybe some other time Disney World . . the kid's got his sights set on something much bigger. And once the good peeps at Make-A-Wish got to stepping, "Abraham's Table" was born. The service will provide free meals to the homeless once a month at Poindexter Park in Jackson, with local business donating the goods.
"My mom always says it's a blessing to be a blessing, so I just wanted to do something for other people to make it last longer," Abraham says.
Here's to the blessings we can count on.