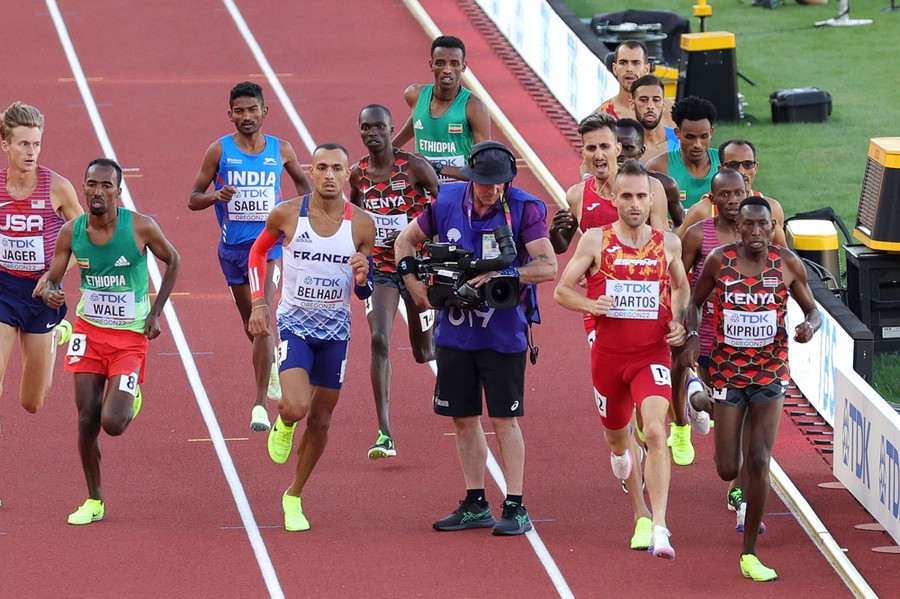 We got some relief from the furnace of Dante Alighieri's worst plot this week, with temps easing up just a tad. This allowed yours truly to return to my road work, which I had announced my retirement from a couple months back. But hey, if Tom Brady can take it back, so can I. I've been on a low key running regimen for several weeks. It's Easy Peasy Calabrese as she goes, but it still counts. And if you're coo with leaving July behind in search of cooler pastures, check out Frank's ode to August this coming Monday. Why he hasn't been tabbed as the next skipper for the Cincinnati Reds yet . . I haven't a clue.
The above photograph comes courtesy of The Atlantic and it inspires more questions than President Biden's economic plan. This all went down last week at the men's 3,000 meter steeplechase final in Eugene, Oregon. So I have a quick multiple choice quiz as to why in the holy ghost of Bruce Jenner this dude was crashing the party. Buena suerte!
A) He promised his mom he would take part in a World Championship race one day and this was the easiest way to keep the promise.
B) The new GPS app on his phone assured him he was at Wayback Burgers!
C) He's blind. (That's a photography joke).
D) He was supposed to be covering a women's event and didn't realize the men's final was even going on when he happened onto the track.
The correct answer is of course, D. Which means this guy wouldn't last five minutes as a pedestrian in Miami.
Let's get to the roster . . . .
I'm a curious chap, so I scrolled back in history to find out how good we had it at the gas pumps back in a simpler time when all we had to worry about were terrorist attacks and waging wars with everybody else. Needless to say, I didn't get very far . . .
2012- $3.60
2002- $1.12
I couldn't get past the fact that we were paying less for a gallon of gas than I currently pay for a cheapie pretzel at my convenience store. One dollar and twelve cents per gallon? Are you fucking kidding me? So basically, when I filled up my tank (I'm talking a Dodge Ram pickup) in 2002, I still had plenty left to get a pack of smokes and some Starbucks. Whereas in present day, I would have to notify my financial advisor before doing such a thing. On a plus note, the above capture really could be my ride if gas prices continue to crunch my cojones. Her name will be Sally. Of course.
I don't wanna be a (third) party pooper but this new political startup that calls itself The Forward Party is further out of serious contention than the Boston Red Sox. And no, that wasn't a cheap shot aimed at a much needed change to our same old political structure. That was a cheap shot at the Red Sox.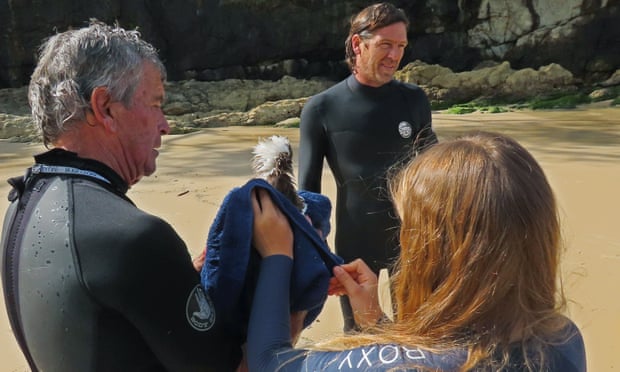 My next selection comes courtesy of the lovely Dale, who always brings the smiles with her stories. And this one is no different.
I say it all the time. The good stuff is always happening inside the quiet, far from the madding crowd of forgettable news gone wild. And so when an osprey got caught up in an angler's line off an island in Brisbane, Australia recently, it took a full court press of compassion to rescue him. So it was that surfers and anglers teamed up to make sure this story would have a happy ending.
It was a long and not so easy process and it resulted in some of the rescuers getting their hands and arms scratched up but good by the desperate creature. Thing is, this group wasn't going to take tragedy for an answer. And in the end they were able to extricate the bird from the tangle and deliver it to shore.
The catch of the day: Kindness always wins.
As with most issues that beset humankind, results usually get tucked into a right and wrong sandwich. Whether you believe that climate change will change the way the next generation lives or not, you have to admit that what's going on in Greenland this summer bears watching.
Over three days in the middle of July, an ice melt resulted in more than 6 billion tons of water being released into the ocean. That's enough to cover the entire state of West Virginia in a foot of water. Research scientists were walking around in t-shirts as temps reached 60 degrees and now they're wondering if the 2019 record ice melt might soon have company.
We don't have to worry about the island of Manhattan being submerged in water. And we don't have to worry about how farmers are going to be affected adversely, which will in turn affect our food supply. And we don't have to worry about more power outages and flooding and a scarcity of potable water . . .
But we should.
Since nobody won the Mega Million lottery draw this week, the new jackpot has ballooned to over $1 billion tacos. It's probably a good thing I didn't win since I would have blown all of it on a once in a lifetime wager: I would've bet everything that Trump will end up behind bars. And while common sense and a mountain of facts are on my side, I fear I might have somehow lost that bet.
Our nation's capitol had a visitor we can all rally behind when a statue of the legendary aviator Amelia Earhart was unveiled this week. And for bonus points, Congress members didn't have to run for cover as a result! Kansas Governor Laura Kelly was there for the event.
"Amelia was a dreamer. Her dreams went far beyond the banks of [the Missouri] river and far beyond the prescribed gender roles of her time," Kelly said. "Let it be an inspiration for all, particularly our young girls, for generations to come. Let them stare up at this work of art and think that they, like Amelia, can dream the impossible dream."
If we're gonna talk patriots, I'll take Amelia.
My streaming diet wasn't quite so FUBAR this week. For every episode of Snowflake Mountain, I returned volley with a slightly smarter reply like D.B. Cooper: Where Are You? When I went with Nailed It!, I lobbed in a George Carlin doc (Thank you Resa!) And my in between was the social experiment show, The Circle, which has given me a new appreciation for social media. And with Lance Bass joining the circle (?), I'm loving season 2 even more than the first one.
It's the little things . . .