Sometimes, it's better not to ask questions.
I asked myself if maybe it was time to put my annual "State of the Dolphins" post on ice, so as to spare myself the disappointment of yet another campaign full of empty promises. But why should I deny my loyal readers the chance to join me for the undertow party? So I said to myself . . . Self? Just write the damn thing. 
It was deep into the third quarter of the Dolphins game in Baltimore on Sunday when I realized just how much I suck as a sports fan. My beloved Fins were getting clobbered 35-14 and the Ravens were killing more grass than an unemployed pothead. Two games in and I was throwing in the towel; the one Rocky should have thrown in Rocky III. Down by three touchdowns, it was time to call in FEMA and start making excuses for next week's loss . . I mean game (I mean loss) against the Bills. And then the thought ran through my head . . .
Waddle is tearing it up! 
Wide receiver Jaylen Waddle is so good, it doesn't seem possible that he's ours. He wasn't our first choice, which makes the fact he's ours that much sweeter. Anyways, that's not why I was so excited about the game Waddle was having in Baltimore. Nope. I was pumped because he's on my fantasy league team. I knew it wasn't right to feel so good about a loss, but hey! It's the kid's fault!
That groan you just heard is Vince Lombardi crapping in his dead pants.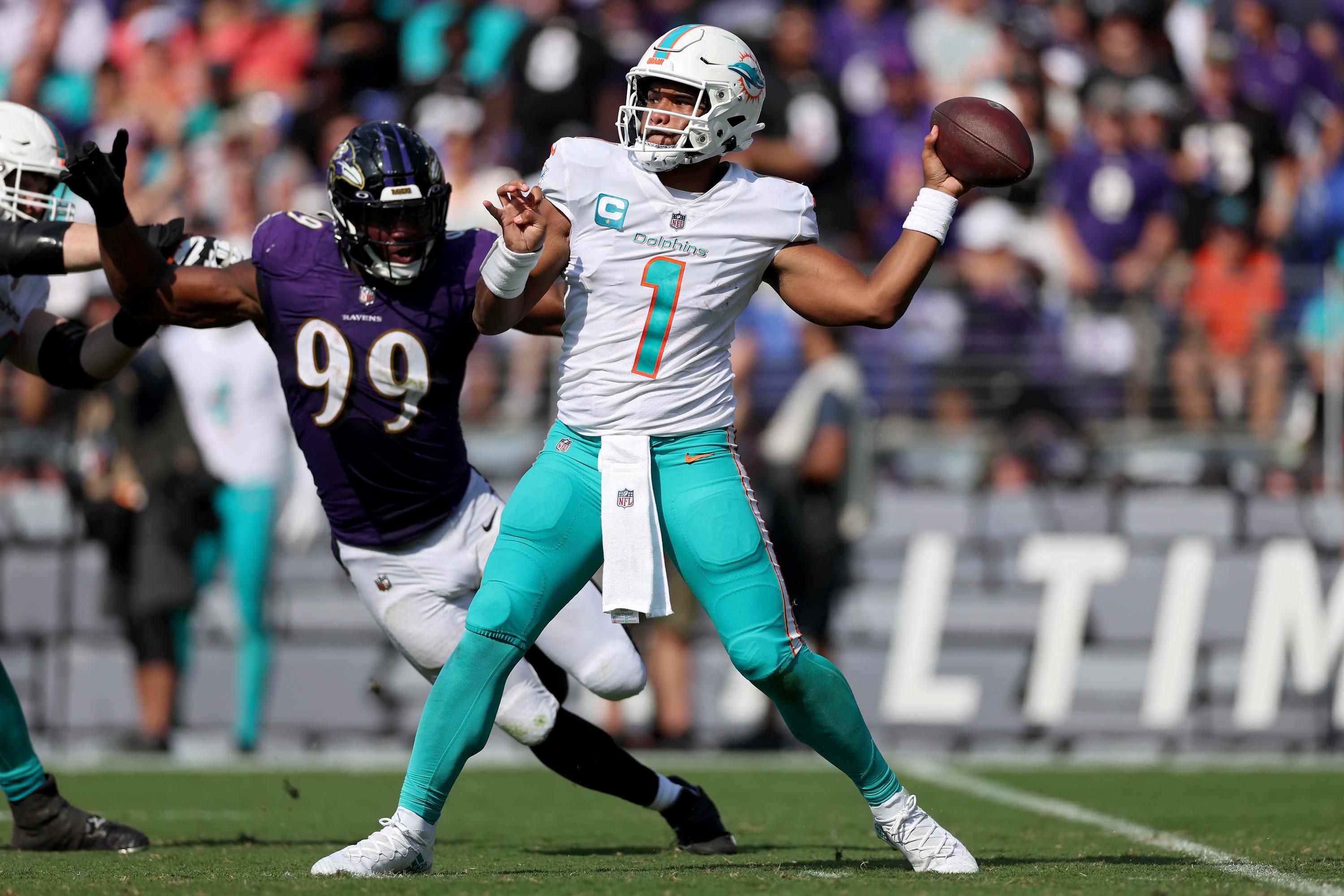 Heading to the fourth quarter, Miami found itself trailing by twenty-one points with Tua Tagovailoa at the helm. Now don't get me wrong, this Tua fellow is an outstanding individual by all accounts. But here's the thing. I don't want my quarterback to be an exemplary individual with scruples for miles. I want my quarterback to be an asshole. Which is why I was coo when we tried to bandito Tom Brady. You put that dude in a phone booth at winning time and go pend your patent.
Heading into Year Three of Tua, the Dolphins have been just fine. Sort of the way a Buick or a hand-knit sweater vest or Nilla Wafers are just fine. It doesn't help when Justin Herbert- the guy we passed on in the draft- is the best QB not named Mahomes or Kelly . . . even with fractured ribs. Miami's Coulda Closet of QB's includes everyone from Herbert to Brady to Watson. Even Baker Fucking Mayfield snuck into our rumor pile for a minute, and he's more Mickey Spillane character than franchise quarterback.
As for the game, it was the fates complying as Miami ran their dime store offense down the field for a less than giddy yup to make it Baltimore 35 Miami 21 with enough time left for Lamar Jackson and the Ravens to hang a Fifty Burger on the board. I was okay with my team having thrown a punch, I was more okay with Waddle leading my make believe team to the promised land.
And then . . . Baltimore 35 Miami 28.
A career best four touchdown passes for Tua and now my (real) team was counter punching the hell out of a lost afternoon. And then they had the ball back yet again, and im had decided to amscray from the possible. But no . . . of course not . . because there was plenty of time left for us to fuck it up in some Hitchcockian horror story . . . hold on . . what?
Baltimore 35 Miami 35.
When Justin Tucker hit a bomb to give the Ravens a three point lead, I breathed a sigh of relief because I hadn't actually lost consciousness after all. But I wasn't expecting what came next to, yanno . . come next. In fact, if I had to make a top five list of shit that I thought was going to happen in Baltimore on Sunday afternoon, it would have gone like this.
1) Giselle purchases the Dolphins and announces that Tom Brady will never get to visit.
2) Lamar Jackson scores on a 101 yard run. Which isn't even possible.
3) Miami HC Mike McDaniel is arrested for stealing actor Jamie Kennedy's identity.
4) Jimmy Hoffa's remains are found in the end zone. By Geraldo.
5) Anything other than . . . .
Miami 42 Baltimore 35 . . with Waddle cradling the go ahead score for my real team and my make believe team.
Both!
From the ashes to the top of the heap in fifteen minutes and somewhere, Warhol was smiling. When it went final, I was left to wonder how they're going to break my heart before the dealing's done. Maybe the wake up call is next week when they take on a Bills team that is playing as if they stole Superman's identity.
And I don't care, because I will be Sebastian to their Mia(mi) if they're going to be this damned interesting.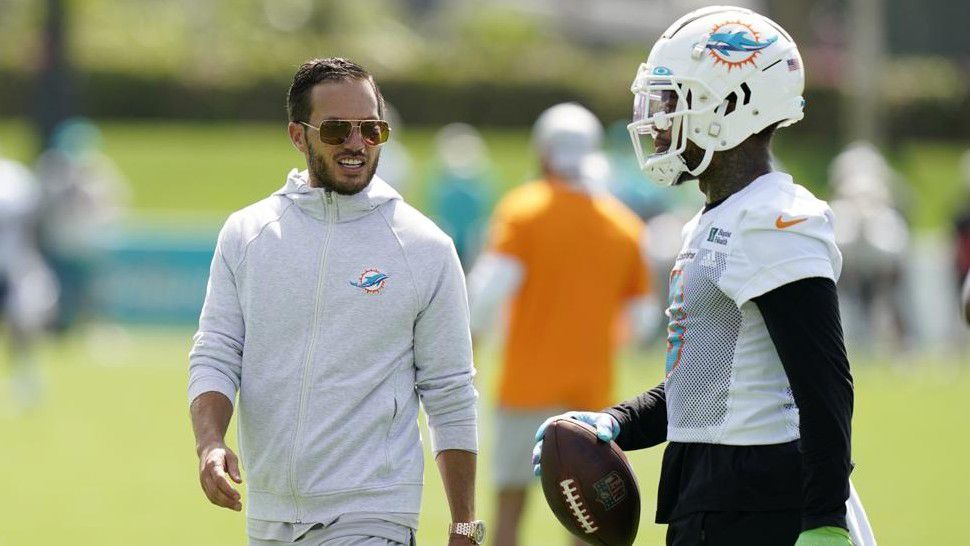 The new football boss Mike McDaniel wasn't our first choice either. And the Boy Genius circa Yale University and the NFC Champion 49ers would say fuck it if you asked him how much that matters right now. No, seriously. That was the play he called with the Dolphins down seven late in the game. The "Fuck It" play was actually in the playbook, and it called for all offensive personnel to line up on one side so's Tyreek Hill could win his matchup on the other.
Who knows? Maybe Miami hot-wired a road trip from Miami proper to January. Because none of these dudes was at the top of our wish list and yet, they dollar billed a penny opera ending into the kind of comeback dub that just might have playoff games calling on the back nine.
Jesus, this feels like a heist film penned by Zack Syder: Tua as the afterthought point man and Waddle as the chip on his shoulder weapons expert. McDaniel is the wanna be white rapper whose side hustle as a safecracker allows him the chance to strike it rich. And they'll have to go through the mafia in Buffalo, the syndicate in Kansas City and maybe even that hot shot gunslinger on the left coast if they want to get to the desert. You can't tell me Hollywood wouldn't dig that script.
I'm liking it my damn self.