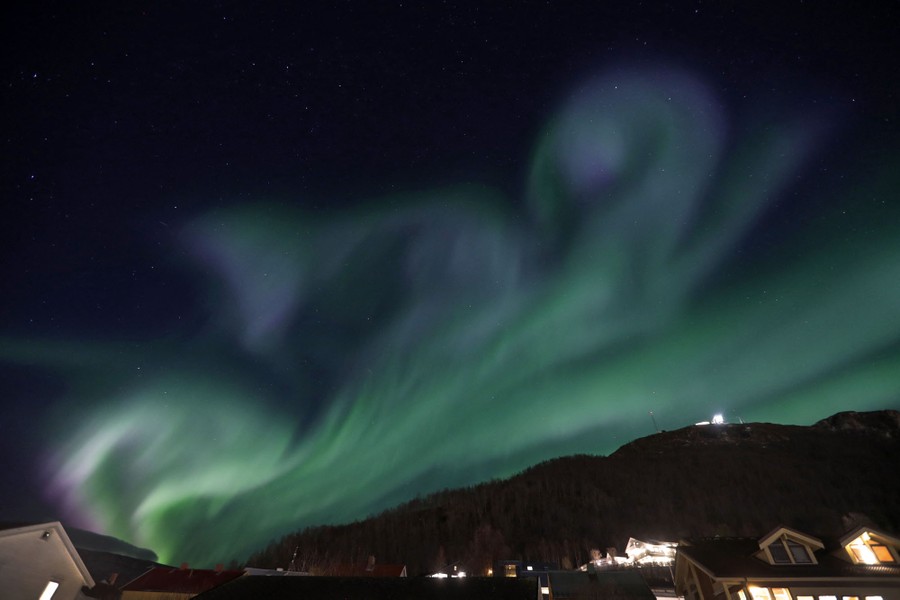 The above snapshot is courtesy of The Atlantic and it shows the northern lights doing their thing across the night sky in Tromso, Norway. It brings to mind the moody sway of that erstwhile astronomer of pen and paper, Jack London. Dig this quote.
With the aurora borealis flaming coldly overhead, or the stars leaping in the frost dance, and the land numb and frozen under its pall of snow, this song of the huskies might have been the defiance of life, only it was pitched in minor key, with long-drawn wailings and half-sobs, and was more the pleading of life, the articulate travail of existence. It was an old song, old as the breed itself–one of the first songs of the younger world in a day when songs were sad.
That right there is a high five to the heavens . . it's a Vitamin Si Si shot to the soul . . it's our lips whispering in Gods ear. And its how we jump into Friday . . . .
Since the dogs took over this spot last Friday, Imma start this week's episode with the story of Koda and the magic pumpkin. This special fella was diagnosed with terminal cancer after a mass was found in his intestines. He lost seven pounds during chemo treatments so mom began feeding him cans of pumpkin squash. Hundreds of cans and one scan later, the mass was gone. The family credits the diet regimen, which Koda now keeps to, because why mess with that kind of success?
Okay, we are officially screwed.
McDonalds unveiled its very own gaming chair as part of a contest giveaway in the UK. It comes with grease proof leather, dedicated dip holders, a burger "heat zone" and french fry holsters. And if I devote any more time to this monstrosity, my head will explode.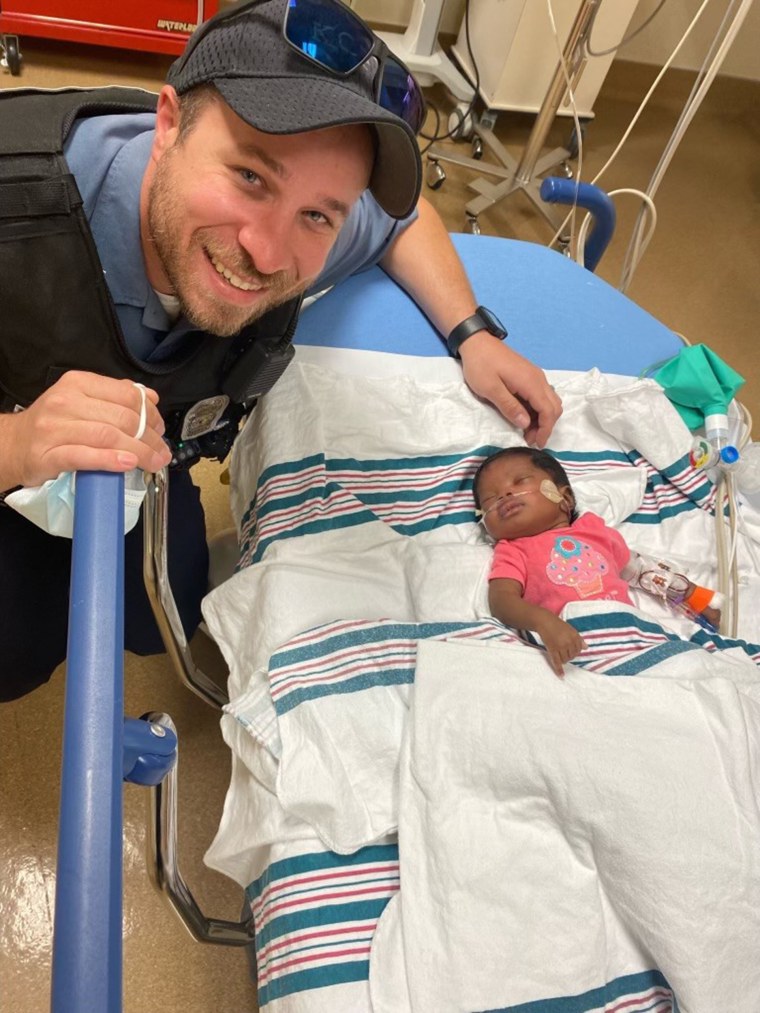 The first Christmas gift of the season was delivered to Kansas City when police officers Richard DuChaine and Charles Owen responded to a call and ended up saving a life. One month old Kamiyah Allen had stopped breathing and the two men were able to resuscitate her using CPR. "The baby was so small, she looked like a doll," Owen said.
Kamiyah was suffering from RSV, a respiratory illness which has spiked in the US over the last two years with children being the most affected. Thanks to these heroes of the week, she'll get to celebrate the holidays. So I'm sending her the very best of wishes just a little bit early.
Merry Christmas young lady.
I was wrong about Fetterman. The democratic senatorial candidate from PA outlasted Dr. Oz in one of the most forgettable battles since the Jaguars took on the Jets. And unlike an NFL contest, this one actually matters. 600,000 of those Fetterman votes were placed before that ill conceived debate but that's not what sealed this deal.
Fetterman dominated his blue plate specials while stealing scraps from the red tables across the state. And it didn't hurt one bit that he was able to draft Josh Shapiro, who nabbed the Governor's mansion because his opponent Doug Mastriano proved too extreme even for many Republicans. The PA results mirrored a lot of the country in that the big inroads the GOP had promised for the midterms never came to pass: In spite of the fact history was on their side and inflation is the only robust thing about this economy.
Not for nothing (since nothing is what it's worth) but Trump backed candidates got what they deserved.
Ralphie is back!
Fans of the iconic A Christmas Story can celebrate the movie's 39th anniversary this holiday season by feasting on the long awaited sequel. The cast will include five of the original members, including Peter Billingsley in the lead role. I never saw the original and Imma choose Violent Night as my movie going fare, but it's still cool to see the excitement associated with fans of the classic Christmas tale.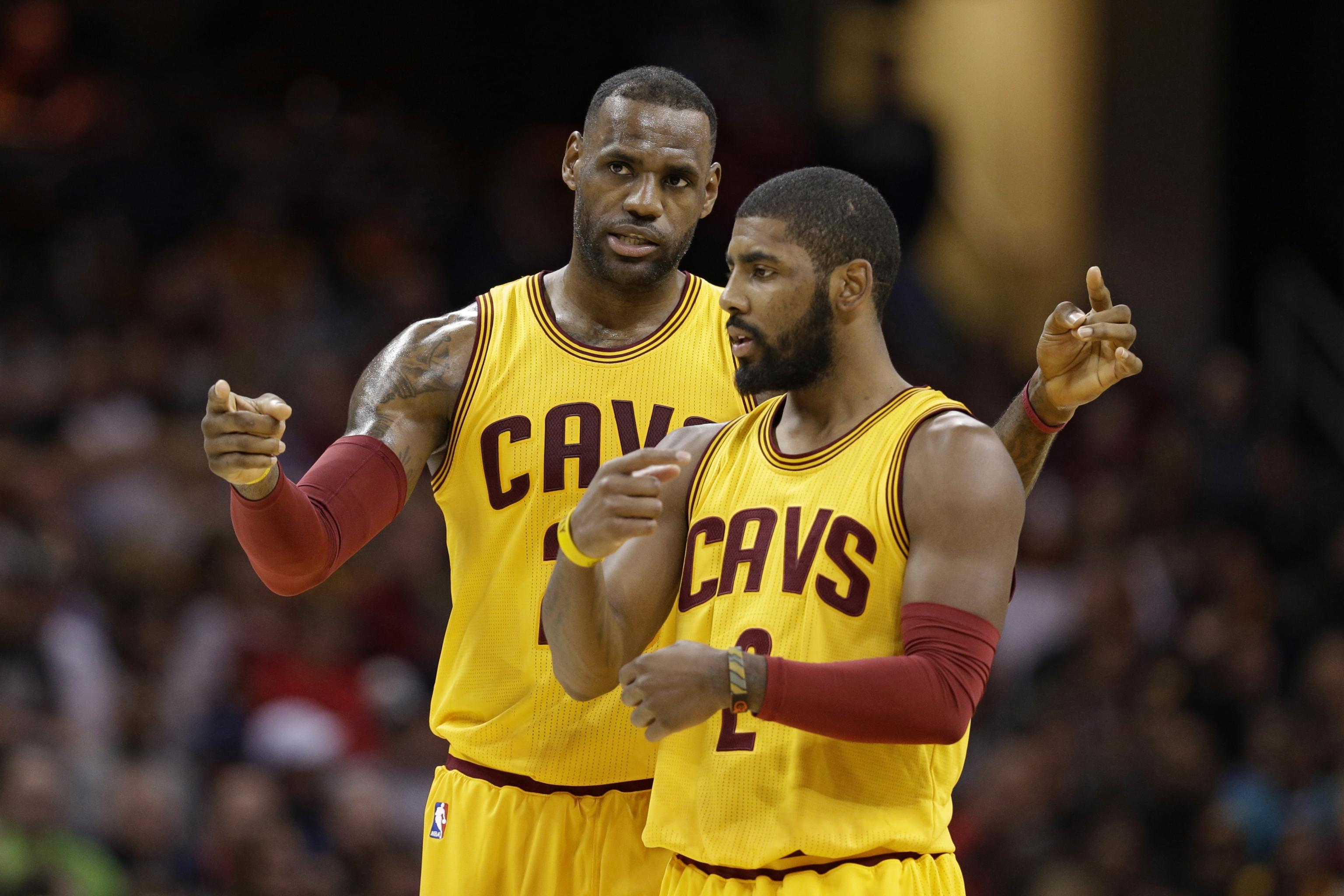 Kyrie Irving posted a link to the film Hebrews to Jews: Wake Up Black America, which portrays Jews as Satan's best friends. When he was called on it, he pretended he was the smartest guy in the room by insisting he couldn't possibly be an anti-Semite because of his ancestry. What this coddled dope fails to realize is that a family tree doesn't give you the right to post hateful content. His refusal to apologize was followed by an apology, of course. This guy is a tired act.
Kyrie's one time running mate, LeBron James, wants us to know he can no longer root for the Dallas Cowboys. Reason being? Owner Jerry Jones won't let his players take a knee during the national anthem. Okay fine. I think players should be able to kneel if they want to, but I also know that Jones gets to make the rules since it is his team. Just because I do not agree with Jones doesn't change this fact. But what lands LBJ here is his assertion that he made this decision for moral reasons. In the same breath, he said he will now root on the Cleveland Browns. The same Cleveland Browns who employ Deshaun Watson; who currently has twenty-four women alleging sexual misconduct and assault against him.
You cannot make this stuff up.
The Cincinnati Kid is back with this Veteran's Day special that puts everything in perspective. I usually post a music video at the end of my Friday episode, but for today, it's Steve Hartman and the kids sending us into the weekend. It's a story that happened back in 2017, but the message is right on time.
Justin Rozier was nine months old when his father Jonathan- an Army 1st Lt.- died in Iraq in 2003. As a boy growing up without a father, there were countless times when he was reminded of the tremendous void in his life. When he was fifteen, he told his mom Jessica what he wanted more than anything; he wanted to find a car his dad once drove. Any car would've been fine with him but the way he talked about his late father's '99 Toyota Celica convertible made the ride seem like a winning Powerball ticket.
Which is the kind of luck it was going to take for mom to track it down since she sold it after her husband's death in order to make ends meet. She posted the vehicle information on Facebook in the hopes of getting a bite. Before long, some people in Pleasant Grove Utah became the other end of a magical line when they found the car. Kyle Fox who runs a non-profit called "Follow the Flag" decided to double down. So they bought the car and then got to work on it.
I'm not gonna give everything away, but let's just say their labor of love was a great big thank you to all the brave men and women who serve as well as the families that keep them strong.
Here's to our heroes.