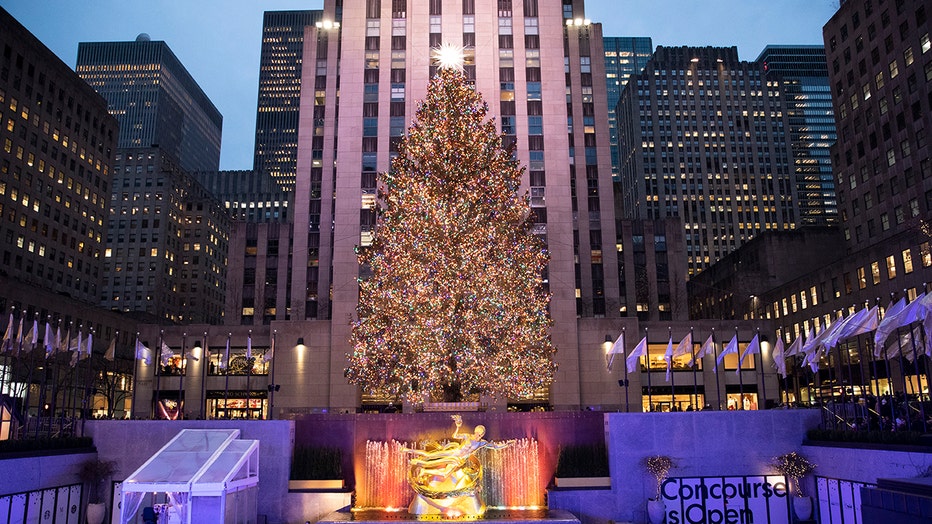 Shit if we're not in December!
Sorry but that's about all the Yule I can unspool for the time being. I'll get back with y'all if and when I happen to come across more of the stuff . . . as long as it's not painted in 80 proof. But seriously, the Rockefeller tree is a fine spectacle no matter what spirit(s) you happen to find yourself in. The peeps who schlep an 82 foot tall Norway Spruce through the rivers of midtown Manhattan are akin to brain surgeons and rocket scientists in my book.
Let's get to this thing! . . . .
Two weeks in and the quadruple homicide in Moscow, Idaho remains a tragic mystery. Law enforcement officials seem to be going backwards, having returned to the scene of the cold crime this week to lift more prints and repossess vehicles for investigative purposes. They've backtracked and sidetracked and basically, they've gone off the fucking tracks at this point. And the "we haven't had a murder in these parts in seven years," excuse ain't gonna bring those four kids back. Unless the cops are giving a master class in Columbo, things might just be heading from horrible to even worse.
Japan made the bullet train famous . . . Don Cornelius was the professor of getting down when he hosted the legendary Soul train . . . the O'Jays classic groove had us punching a ticket onto the Love Train the same way Ozzy reminded us how crazy of a ride it really was. And now here come the peeps at the Dartmouth Steam Railway in the UK. These kids at heart are busy unwrapping their Train of Lights for the Christmas season. Check out their practice run.
I folded.
When I got home on Tuesday, there was time enough to catch the second half of the US vs Iran soccer match. I know I had sworn off the Cup because of the locale and the stench that comes with FIFA's money grab. But this tilt had too much going on. On the one side you had a US men's team trying to buck history. On the other, you had an Iranian national team that was being threatened by its despotic regime for supporting the protests in Iran. It ended with the US winning a nail biter 1-0; a bittersweet outcome in that we win but those kids on the other side lose more than just a soccer match.
Big props to US men's captain Tyler Adams for kicking this question to the curb with smarts and class. Nicely played kid.
The House Ways and Means Committee said "Way!" after they finally found the means with which to grab six years worth of Trump tax returns. And no silly, this latest find has absolutely nothing to do with the train wreck of a campaign run that 45 has been warning us all about and which is actually maybe kinda gonna happen now. Nah, the fact that he's been screwing people over for decades wasn't important until, oh . . . just now.  The timing of it all is just a coincidence.
Frank "Beach Walks" Angle is doing double duty for this week's episode by providing me with our next story as well as the capper that sends us into the weekend. Thanks Cincy.
Peter Eigner is living his dream. He's a walk-on goalkeeper for the Bowling Green Falcons and he's never seen a lick of action to this point and that doesn't matter nearly as much as the journey he took to get here.  Start with the fact Peter was a decent forward at St. John's Jesuit, but he lacked the speed it takes to play Division I collegiate hockey. This was the opinion of none other than his father Ty, who was an assistant at Bowling Green when Peter was taking recruiting trips while still in high school.
Dad wasn't being a hard ass, he was just being honest. He was and is damn proud of the young man his son has become and he's thankful beyond words to have this time because well, it almost never happened.
Peter was diagnosed with neuroblastoma when doctors found a grapefruit sized tumor in his abdomen; after which they discovered the cancer had spread to his lymph nodes and bone marrow. He was four years old. He lost the next two and a half years of his life to chemo treatments and tests and more chemo treatments. There were bad days and there were worse ones. And through it all, his father Ty learned the two most important things about being a dad; always be truthful with your kids, and always say good night.
All these years later, Peter doesn't remember much about losing kindergarten and first grade, but he does remember the fight that got him here. And maybe he gets a shot as the starter one day, and maybe he doesn't. All that matters is that he is going to have the one thing that matters most of all.
A chance.
Just in time for Christmas, the Ralphie Parker house is up for sale and if you've got 10 million Red Ryders to spare, it could be yours.
The house that A Christmas Story made famous is being sold for that princely sum and no, Elon Musk is not interested in buying it, seeing as how he ain't interested in anything outta Cleveland. The 1.3 acre property is living its best life as a museum and any prospective owners would have to be cool with keeping the history alive.
If you're interested, you should . .  wait for it . . . get a leg up on putting in a bid.
Bullies suck.
Melvin Anderson, a seventh-grader at Buffalo Creek Academy Charter School in Buffalo New York knows this all too well. He was getting the worst of it from some of his classmates because he had the nerve to come to school in a worn out pair of sneakers. Name brand sneakers have been a source of bullying and worse in schools for decades, and so it really wasn't a surprise that the poor kid was on the wrong end of this status war.
Enter classmate Romello Early, who decided he was going to do something about it. No, Mello didn't challenge these kids to a fight. He didn't even choose to shout them down with some trash talk, as much as they would have deserved it. What Mello did instead is why this story meets the second day of twenty-five special ones.
The kid discussed his classmate's predicament with mom and asked if he might be able to use his allowance money to buy Melvin a fresh pair of sneakers. Mello was willing to go further if necessary, letting her know he was cool with less presents if it came to that. Mom said dipping into his allowance would be just fine, and you know she had to be thanking her lucky stars to have a son who doesn't just believe in the spirit of Santa Claus.
He's also the big guy's sub-contractor.