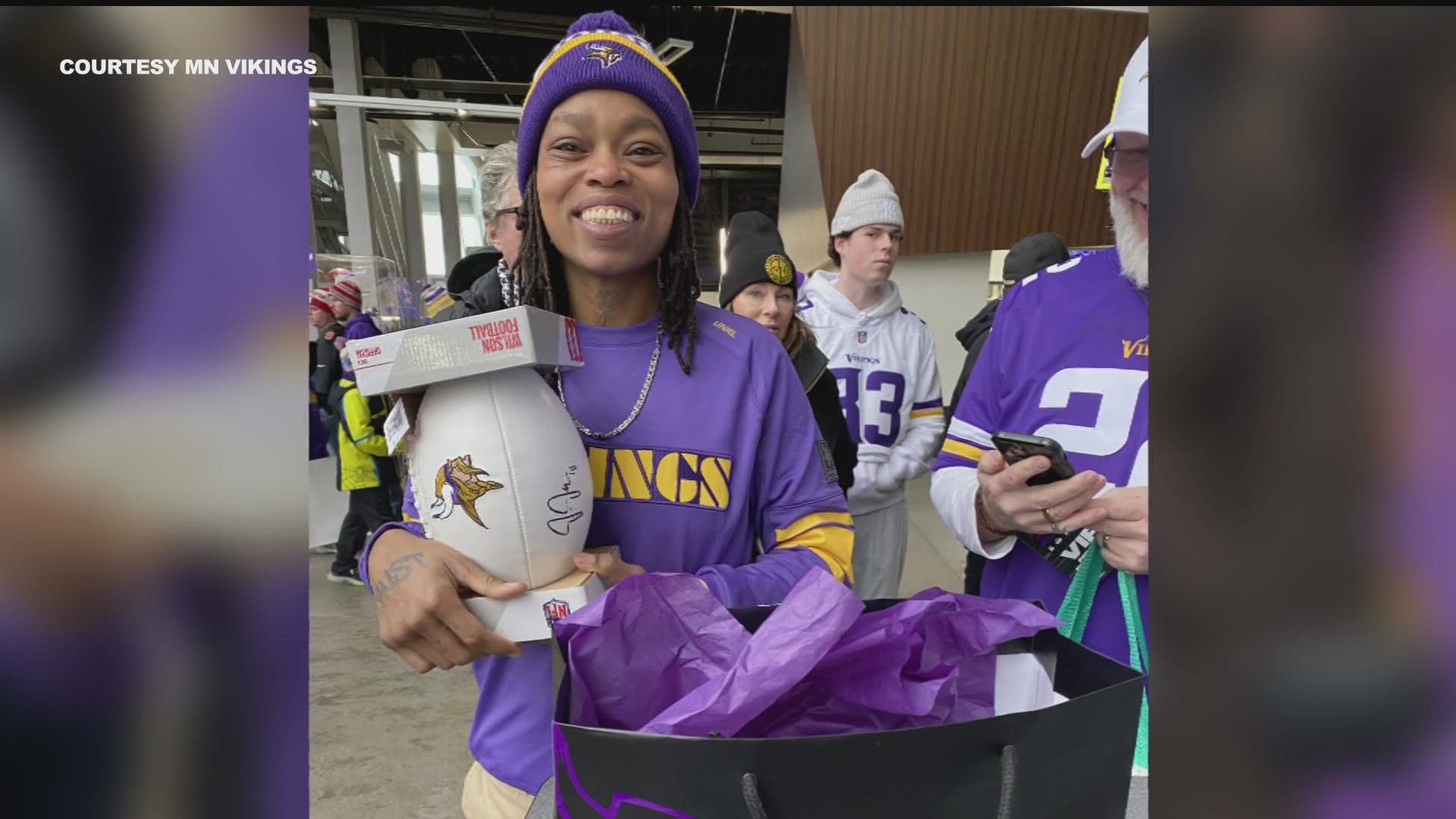 La Teia "Ace" Thomas is the kind of person who will give you the shoes off her feet. Which is exactly what she did recently when she spotted a homeless man wearing cardboard boxes for shoes. Never mind that it was her favorite pair of shoes, because as she says "I didn't care about the shoes, I cared about him."
Ever since then she has found herself on the receiving end of individuals who are paying her good deed forward. She was gifted free tickets to the Minnesota Vikings game against the Colts yesterday, where she witnessed her favorite team come back from a 33-0 hole to score the biggest comeback win in league history. And she got a pair of signed cleats from All-World wide receiver Justin Jefferson to boot.
Her employer, Brooklyn Center Liquor, is getting in on the goodness. They've set up bins at local liquor stores as well as City Hall in order to collect winter clothes for unsheltered people. Thomas still can't believe the ripples that her simple gift has engendered.
"I didn't think it was gonna get as big as it is but I just want to show the world that there are still good-hearted kind-hearted people out in the world," she said.
Meanwhile, in other news . . .
Memo to President Biden: When reading from prompts, for the love of God please stick to the script.
Do you think Elon Musk has a GoFundMe page?
Actress Taraneh Alidoosti has been detained by Iranian authorities for "spreading false" information regarding the execution of protester Mohsen Shekari. It got me thinking that maybe it's time for the all these talented and influential voices here at home to practice unity for at least five minutes so we can hold countries like Iran accountable.
Argentina beat France to win the World Cup for the first time in thirty-four years and give Lionel Messi the top bunk in the GOAT debate. In what might have been the best World Cup match, check that, best soccer match, check that again . . Best game. In any sport. Ever. All this happened . . .
Argentina blew a two goal lead late in the second half
An outstanding save by the French goalkeeper kept things even but the rebound made it over the line in spite of another outstanding save attempt by the French defender. That gave Argentina the lead back at 3-2
That was before France's Mbappe scored his third goal of the match to tie things at three.
And then Messi in a shootout, which is akin to Wild Bill Hickok at high noon. His first kick grabbed the back of the net and it set the tone for what would end in a world title.
You could not have written a more dramatic finale if you tried.
And in sports! . . .
The Miami Dolphins are more flawed than a sitcom script, but they'll bring a puncher's chance to the postseason if they can figure out how to get there. Sure beats being a Cleveland Browns fan.
Over the past five seasons, NFL teams spent $800 million Goodells on fired coaches and executives. Yes, you read that right. They shelled out almost a billion dollars for these guys to go away. As Sheriff Ed Tom Bell woulda said . . signs and wonders.
The Cleveland Browns remain completely irrelevant. What? Too much? I think it's about right . . .
Marco at the Movies! 
Amsterdam- Half of Hollywood seems to be in this cast and to its credit, it doesn't get stuck on its impressive marquee in the least.  To the contrary, it will make you fall in love with great story telling all over again.
The Banshees of Inisherin- And speaking of storytelling . . . wow. Unlike Amsterdam, this one holds court in the quiet but it does so brilliantly. Colin Farrell and Brendan Gleeson shine as two estranged pals in this dark comedy that examines the meaning of friendship and life itself.