As we venture into the fourth quarter of this meanest of years, I've got a few stories that speak to the not so random acts of kindness that offer us some much needed light inside the storm. And okay, so I tucked a minus into things. But rest assured, it was strictly for contrast. Because I've come to know and respect the science of these weekly episodes.
It's not about unmasking the truth, it's about respecting it.
I'm a fool for cool when it comes to names, and so Wyatt Jones was rocking it with yours truly even before I read about his good deed gone viral in Waynesville, Ohio. Jones is a McDonald's crew member who puts the above and beyond in his customer service. Just ask Brittany Reed, a mother of three who rolled up to the drive-thru window where Jones was working sans her wallet. The frazzled mama explained to Jones that she would have to cancel her order, but Jones was having none of it. He grabbed his own wallet and paid for the order himself.
Reed returned later on to repay Jones, who didn't want to take her money . . of course. Because to him, the positive difference he was making in somebody's day was payment enough. And sometimes that is that, and sometimes, well . . sometimes that good deed gets noticed in a big way. Reed shared her story on Facebook, after which she started a GoFundMe page for Jones, which has raised more than $27,000 to date.
"I never dreamed my post would go viral from our little village community page. I was truly just trying to reach his parent and let our community know what a kind hearted young man we had working at our local McDonalds," Reed says. "I can't believe people have donated this much money to Wyatt."
As far as this story is concerned, I'm loving it.
My Hero Quote Of The Week! 
"It's a struggle. It's a battle. And I just don't represent me. I represent all those folks that are afflicted [with cancer], all those people that fight, all those people that have fought."
-Washington Football Team Head Coach Ron Rivera, who is still coaching while also taking treatments for squamous-cell cancer. (Props to Peter King for this).
I've had about enough of the peeps who have sworn off sports because it's become "too political", and Nate Lucas is my rebuttal argument as to why that complaint is full of it. Lucas was a sports radio host in Missouri, whose specialty was retreading sports narratives while mixing in his politics. In September, Lucas took his tired act and went scorched earth when he referred to VP candidate Kamala Harris with an "offensive, sexist slur" according to the station. Turns out, Lucas was plenty fine getting political when he felt like doing so, but I can only assume he'll stop watching the games now that he's unemployed . . because sports is too political. Funny how that works.
Marios Giannakou is used to taking the long way home, with great success. The long distance runner has navigated all the valleys and mountains set out before him- from a 168 mile journey across Al Marmoum Desert to a first place finish in a cross-country race in Antartica. And oh yeah, he's also climbed to the peak of Mount Olympus. Fifty times.
This guy is winning the day the moment he wakes up in the morning, and it's not because of the medals or the acclaim he's earned. It's because he understands that winning is giving, and giving is life.
So when he heard about Eleftheria Tosiou's dream of experiencing the summit of Mount Olympus, he got to stepping. After meeting with Tosiou, who has never let her disability define her, the pair was hooked up with a specially modified backpack and a support team. And then they climbed, together, chasing down a dream that has no finish line.
"There is nothing more real than the dream," said Giannakou.
My Hero YouTube Video Of The Week! 
As far as this special moment between a thespian and his brand new friend goes, there are a few different videos out there. I chose the one whose spoken language I do not understand because I understand the language that counts just fine.
(Note to our Canadian friends, the title of this video is "Stray dog tries to help an actor in a play" (56 seconds running time)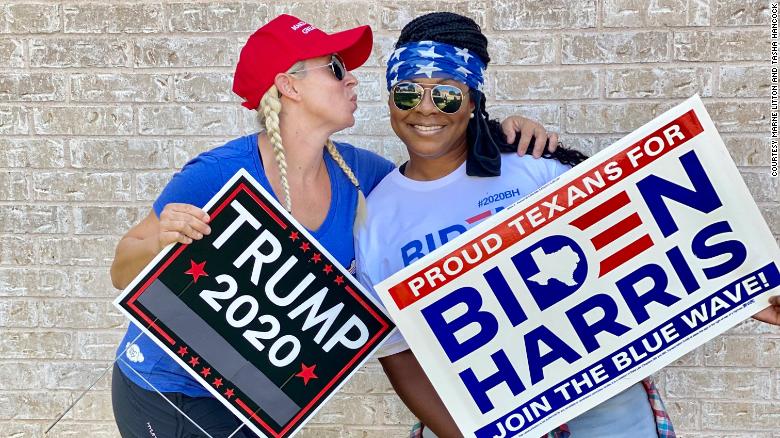 We live in times of great anguish, full of carnival barkers in suits whose currency often times relies on division to keep them electable. And maybe it just seems that way too much of the time and maybe I have a lot to learn, but maybe I'm okay with being rescued time and again by the stories that prove how wrongs can be righted if we just open our minds.
And so the picture above . . I mean, right? The nerve of these two ladies, to somehow forge an alliance from two sides of a fence that would seem impossible to scale.
Cedar Park, Texas is where Marne Litton and Tasha Hancock call home. The two became fast friends when Tasha moved there six years ago and their political leanings did nothing to change that. Because these two came to understand each other not as political lawn signs, but as human beings. Litton is raising a special needs child and she says Hancock has always been there to brighten the most trying of days.
"We want to spread a message of kindness and love during these challenging times," Litton said. "Tasha and I may not see eye to eye politically, but that doesn't mean we can't show love and respect for one another."
These two made me go digging for a quote that came to mind when I found the capture of them all dressed up with someplace to go, attached to a story that told me I still have much to learn.
We are strong not in spite of our differences, but because of them.
It comes from Prime Minister Justin Trudeau who was speaking of his native Canada, but Imma borrow it, humbly and gratefully. Because it frames that capture. Perfectly. Because it speaks to the idea that opinions will keep the cash register chiming, but humanity will keep the lights on.
If I were to break down the story of us into a mathematical equation, rancor equals subtraction while unity stands for addition. And that's where you'll find that peaceable solutions are happening . . like, all the time. And sure, they might be harder to find but it's only because they're not breaking news-worthy. They exist inside the quiet, because all the best stuff in the world?
Lives there.