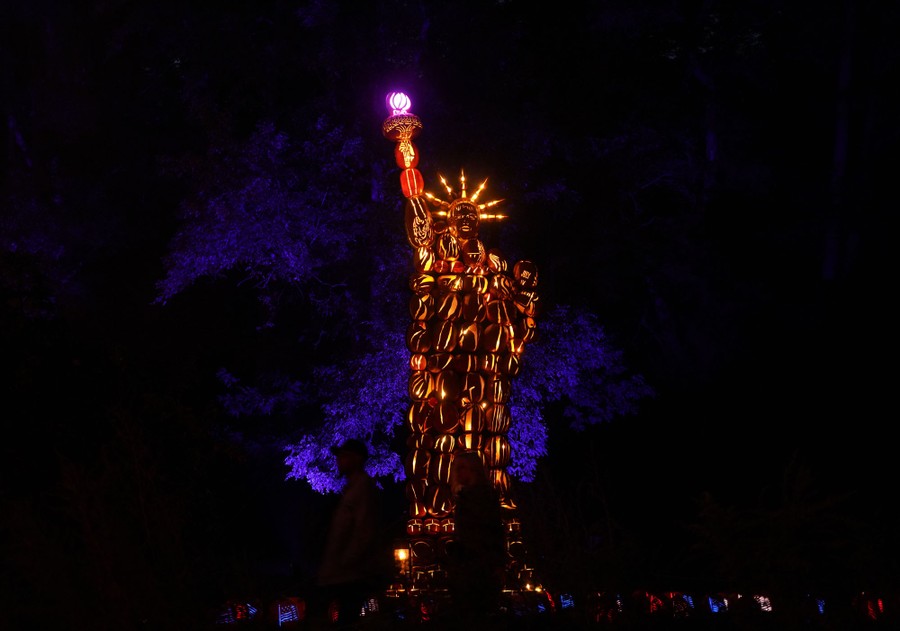 The townsfolk on the Hudson know their business when it comes to getting down at Halloween time. The above capture is called The Great Jack O'Lantern Blaze and it's a collection of lit pumpkins hand sculpted into a righteous replica of the Statue of Liberty. You don't have to be Ichabod Crane to lose your head over this brilliant piece of boo-yeah. Props to the ghosts and goblins in the 914 for doing it up the fright way.
Let's get to this thing . . .
It's not heaven. It's Iowa on Halloween. Check out the above video, which takes the top prize for being monstrously creative. A family in the Hawkeye State came up with the diabolical idea for a door and in the doing, they transformed their crib into the place to be this weekend. Boo? Meet Hahahaha!
Dr. Oz . . . United States Senator.
Yeah, I know it sounds ridiculous. But celebrity politics taught me to never say clever, and Oz is as close to a slam dunk proposition as you're gonna get right now after this week's debate with John Fetterman. The former Lieutenant Governor of Pennsylvania put in the kind of performance that will live on YouTube until cats rule the earth. It was disjointed, confounding and in the end, it was sad. Fetterman had a stroke earlier this year and I'm giving him a bowl of Mulligan soup because of it. This was a tough watch.
The World Series starts tonight and I have to agree with Tony Kornheiser and Michael Wilbon when it comes to the timing. Both Houston and Philadelphia wrapped up their business on Sunday, so common sense (which hasn't been seen since hot dogs met mustard) would dictate a Tuesday start for the Fall Classic. Four days of an unimpeded spotlight, at least two games worth of grabbing the attention of fans outside of Houston and Philadelphia. But nope, the MLB is going right into the belly of the football beast by plunging head first into a college/professional football weekend in the deep get of fall. Which means that Rob "Fan Friendly" Manfred will be able to personally call every fan outside of the two cities involved in the series to thank them for tuning in.
The baseball poohbahs still don't get it.
Actor Russell Crowe has earned his share of forgettable headlines over the years. The guy loves him some fisticuffs, I understand this. But he's making this episode for helping to save a business that was fighting for its very survival.
Dan and Leanne Fridd opened the doors to their new business, Bookbugs and Dragon Tales Bookshop in Norfolk England, in 2019. And then came, well . . . you know. Things were keeping on but barely and so the couple started a Crowdfunder campaign in order to stow some flow. Neighbors, friends and regulars helped plenty. And then the star of Gladiator chipped in with a donation that would've had made Marcus Aurelius proclaim No he di . . int! 
Crowe did, and the bookstore's keep on is looking more hopeful than ever as a result. And it's always a special thing when people like the Fridds, who have done such great good work with schools and the community at large, receive this kind of payback.
They asked for some help and they got Maximus.
David Gordon Green seems like a genuine fan of the Halloween franchise so I ain't gonna heap my creep into his trilogy. However- and as the Snake Charmer in Kill Bill would say, there's always a however- the last two installments of the reboot should be evicted from the Michael Myers estate. I dig ambitious fictional swings just fine but when it comes to gold standard expectations, you gotta connect on a couple or you might as well play golf.
Editorial Side Order: That's my capture of a life-sized Michael Myers I happened upon at Party City this week. If you have a couple hundred Bennies, you can be the proud owner of this tall, dark and murderous chap. Until the Fed Ex guy bogarts it.
If you haven't seen the final (for now) Michael Myers picture show yet, save your cash and go with the original Frankenstein starring Boris Karloff instead. This 1931 classic is what popcorn was made for. And if you wanna binge, go with Bride and Son and you'll be digging into a worthwhile trilogy. And not for nothing but the story it was based on, The Modern Prometheus by Mary Shelley still holds up, two-hundred and four years after it was written.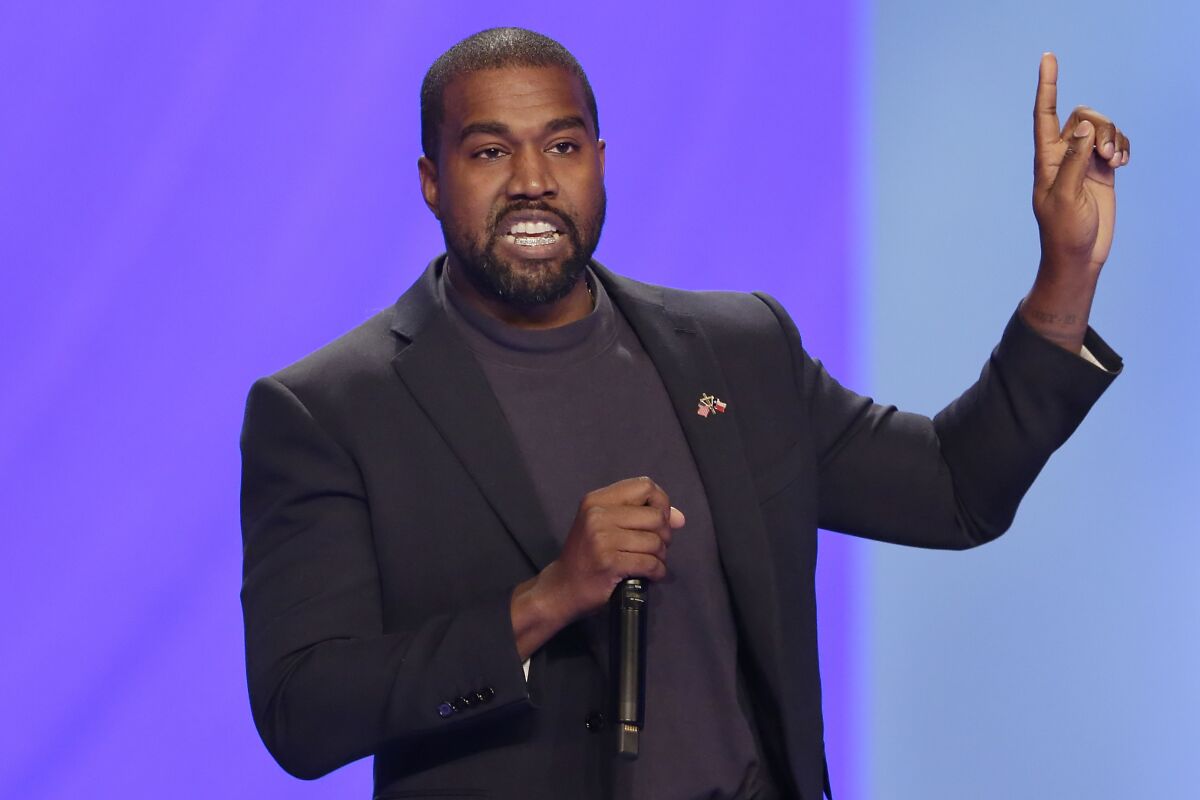 Kanye West lost two billion dollars in net worth (That's a B for Bozo), after his anti-Semitic rants, which means he'll probably throw his hat into the ring for the 2024 Draft Kings Presidential Octagon Match. Hey, Trump ran and won in 2016 after freely admitting that he sexually assaulted women. Why wouldn't Kanye- sorry Ye- get right by going all in for the cast iron throne?
Too soon?
The City Rescue Mission in Oklahoma City currently houses more than 100 children. These kids are either homeless or at risk so when it comes to frightening propositions, they don't need October 31st to provide. They're living it. It's why we have places like the mission; to provide a safe haven for families who need a helping hand.
Tonight the place will celebrate the kids with a trick-or-treat event. The kids get to dress up before venturing through several immersive sets constructed by the good people whose labor is all about love. There's going to be a Willy Wonka Chocolate Factory and a Candy Land as well as a scene by scene set from The Wizard of Oz.
The President and CEO Erin Goodin says the mission currently has the largest number of families it's ever housed and that the event helps to bring everyone together in a community setting. "We want to build them up so everything we do here, we don't do scary. We do fun and uplifting,".
Goodin and her colleagues will play characters from the movie and she'll be dressing up as the Wicked Witch of the West for tonight's event. But when she taps her toes, she will be singing a familiar and much needed refrain.
There's no place like home.